3 First Wave Podcasts You Really Should Be Listening To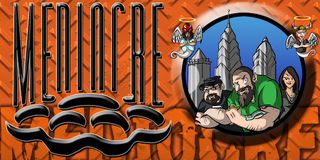 Podcasts have been around for awhile; certainly longer than the wave of popular podcasts in the last four to five years would suggest. Did you know that Marc Maron's WTF? show came along well after podcasting began? You probably did, but shows like The Nerdist, The Moth, and The Smartest Man In The World are relatively new to the scene. Because of their incredible popularity, some of those shows have become the go-to examples for podcasts, but there are actually many "First Wave" podcasts that are still quite popular.
Here are three you should really consider listening to...
The Mediocre Show is not about anything, other than some guys talking about their lives. Back before people set up studios in the back of Meltdown Comics, or recorded their professional routines at clubs around the world, there was a group of people doing this thing out of their basements. The Mediocre Show has that same vibe, though it's grown up. It has no real hook to it, other than you might be interested in hearing their discussions. It's a down and dirty podcast, helmed chiefly by Eric Tomorrow, that started way back in 2005. The charm of the show hasn't changed much in the nearly nine years since its premiere. The recording equipment is better, the shows are more polished, and along the way some style and format has been refined.
What makes The Mediocre Show so great is that Eric, along with Mike Pilot, have crafted over the years a loyal following of fans. It's a trend you'll notice with these early gen podcasts: large and loyal fanbases. There's something comforting about knowing you are part of the Mediocre Nation, while everyone else sits in their cars listening to the same heart lifting stories being told ad infinitum on This American Life. Eric and Mike toast to friends who have died, shoot the shit, and ramble on about music and life. It's oddly entertaining how ordinary the discussion is on each episode. It's worth checking out.
Subscribe (opens in new tab) to The Mediocre Show.
It's pretty much an acknowledged fact, often by popular modern podcasters like Marc Maron, that the Keith and the Girl Show is the quintessential podcast. The nearly decade long running show has pretty much written the book on the art form. Keith Malley and Chemda Khalili turned their quirky daily show into an empire with one simple factor: a shitload of hard work. Anyone who works on the internet knows you need two things for success: quality and consistency. Oddly enough, it's the latter you need more of as the former naturally builds over time.
Keith and the Girl is the show I've personally listened to the longest, having started back in 2006 when the show was still a bit avant garde and loose in production. KatG hits their mark on consistency by having a show release each weekday, and they almost never miss a date. Aside from announced and planned vacations, the duo releases a show five days a week. Even when Keith had surgery and was out in late 2012, Chemda took to the mic with guests and kept the fans entertained. Keith's abrasive tone may be too much for many, but over the course of many years it's difficult to pigeonhole the man's opinions into one generic form. Listen for yourself, I'm sure you'll agree that Keith and the Girl is a fantastically entertaining and honest show.
Subscribe (opens in new tab) to Keith and the Girl.
Uhh Yeah Dude rides a bit of a line between the first gen everyday guy podcasts and those run by already famous names. Seth is an actor who's done a few small things, and Jonathan is the son of John Larroquette. But the show, started in 2006, is very similar to what Eric and Mike are doing on The Mediocre Show. These two guys hang out and talk about everyday life. They're Americans discussing American things. Like the two shows above, Uhh Yeah Dude relies on being honest and casual with its format. It's not an interview show, but rather just some time hanging out with friends. That's part of the charm of the early podcasts, as these hosts didn't have anything to sell except themselves.
Obviously the two hosts didn't come in with even a cult following like Chris Hardwick, Doug Benson, or Marc Maron did with their podcasts. Their ties with the entertainment industry did lend the show a sense of legitimacy from the early days simply because they took the format seriously as a way to entertain. All these years later it's one of the most popular shows on iTunes, but if you're only looking forward to the next Girl on Guy you may be missing out.
Subscribe (opens in new tab) to Uhh Yeah Dude.
Your Daily Blend of Entertainment News
Staff Writer at CinemaBlend.