WTF? IFC Greenlights A Series From Comedian And Podcaster Marc Maron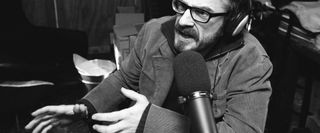 IFC is pretty intent on developing a solid original comedy slate. After seeing success with the David Cross starring Increasingly Poor Decisions of Todd Margaret as well as Fred Armisen's Portlandia, the network quickly nabbed two more original comedies, Comedy Bang! Bang! and Bunk, which are both set to premiere this summer. Following in the former's footsteps from podcast to series, IFC has green lit a new show loosely based on WTF with Marc Maron.
Although it's taken some time, IFC has finally decided to move forward with the Marc Maron series after the pilot generated positive buzz following its New York Television Festival screening last year. Vulture reports that the network has ordered 10 episodes of the autobiographical, single camera comedy created by and starring Maron. The comedian rose to prominence in the podcasting world because of his unique voice as well as an ability to conduct a (sometimes painfully) candid interview, but while the real podcast features many big name celebrity guests (from Patton Oswalt to Louis C.K.), don't expect the same from the series since it's set during his more humble beginnings.
Indiewire confirms that the show tentatively titled Maron will premiere on IFC in the fall of 2013 and, like we said above, will focus on the day to day life of a struggling podcaster. Working out of his garage, Maron tries to operate his comedy podcast while dealing with his much younger girlfriend, a bunch of needy cats and his overbearing father played by Ed Asner. At this point it's unclear whether Asner would reprise but nabbing a legend like that certainly would hurt. As a big fan of WTF, as well as FX's Louie which seems to traverse the same subjects and tone, I'm definitely looking forward to seeing what Marc Maron can do with a half-hour comedy on IFC.
Your Daily Blend of Entertainment News