Another Harry Potter Star Caught Smoking Pot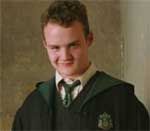 The Harry Potter franchise is at the center of another drug drama - a second star has been photographed smoking what appears to be marijuana.
Pictures of Josh Herdman, who has played bully Gregory Goyle in all of the Potter movies, puffing what appears to be a joint have appeared in U.K. tabloid The Sun. The picture was taken while the 20-year-old star was holidaying in Amsterdam, Holland, where it is legal to smoke cannabis, last year (08).
A source tells the newspaper, "Josh sees himself as one of the boys. He'll join in with whatever anyone's doing - but some fans might be shocked."
The images come shortly after fellow Potter star Jamie Waylett narrowly avoided prison after he was caught in possession of several bags of marijuana. He was sentenced to community service after pleading guilty to drug charges in July (09). (KD/WNWCSU/KL)
Copyright 2009 WENN
Your Daily Blend of Entertainment News