Divergent eShort 'The Transfer' Focuses On Fear And Choice For Four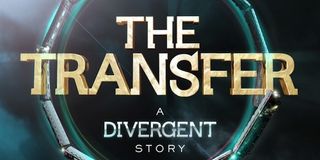 Next month, the third and final book in the Divergent trilogy will hit shelves. Author Veronica Roth confirmed at Comic-Con that Allegiant will be told from both Tris and Four's perspectives, which is a shift from the first two books, which were both told entirely from Tris' perspective. With that in mind, Roth's short eBook The Transfer -- the first of four planned Four-focused eShorts -- feels like good preparation to get us into the mindset of Tobias.
The Transfer arrived via Amazon (opens in new tab) and Barnes & Noble (opens in new tab) earlier this month and tells the story of Tobias' decision to leave Abnegation and join Dauntless during his Choosing ceremony. The eBook, which is 30 pages on Kindle, 50 pages on Nook, fills in a few blanks on how Tobias came to the decision to transfer from one faction to another, and how he got his nickname, Four. Eric and Tori both make appearances, as Tori's the one to administer his Aptitude Test.
Of course, if you've read Divergent and Insurgent, you already know the general background story. Tobias doesn't have the best relationship with his father, to put it mildly, and we know that his nickname has to do with his fear landscape. But The Transfer seems to be less about providing us with new and exciting information on this character as it is about allowing us to get to know Four as an individual. It would probably be fair to say that choosing to leave his family's faction behind and choose another is the biggest decisions a young adult can make in Roth's factioned world, so just as it was fitting that Divergent began with Tris making such a choice, it seems as fitting that the first of these eShorts should focus on Four making a similar choice for his own reasons. Why did Four want to leave Abnegation and what made him choose Dauntless? How did it feel to leave one world behind and choose another. We know Tris' story. The Transfer tells us a little bit of Four's, taking us from Aptitude Test to the start of his initiation into Dauntless.
In terms of the short format, The Transfer is a great follow-up to Free Four (opens in new tab), the previously released eBook that tells the story of the Divergent knife-throwing scene from Four's perspective. Except not only is The Transfer longer, it also tells us a part of Four's story that wasn't previously featured in Divergent or Insurgent, and the focus has nothing to do with Tris, which I think is also relevant, particularly when we consider that we're going to be following Four through some of Allegiant. Four's relationship with Tris is certainly a big part of the overall story, however this first eShort allows us to get to know him as a solo character.
While it doesn't seem like The Transfer will be required reading going into Allegiant, I do think it'll help readers become familiar with his voice and his way of thinking, and who he is from his own perspective (rather than Tris') ahead of the last book. And if you're a fan of Divergent, it's worth the $1.99 (the current listed price on both Amazon and B&N).
The next three eShorts are The Initiate (opens in new tab) (December 17), The Son (opens in new tab) (January 21) and The Traitor (opens in new tab) (February 11), all three of which are currently scheduled to release after Allegiant (opens in new tab) (October 22). By the titles, we might assume that The Initiate will take us further into Four's training as a Dauntless, and The Son might be a segment that focuses on Four's relationship with his father.
While the release of the other three eShorts arrive after Allegiant hits shelves, they seems perfectly spaced out to bring us closer to the release of the Divergent movie, which is set for March 21.
Your Daily Blend of Entertainment News
Assistant Managing Editor
Kelly joined CinemaBlend as a freelance TV news writer in 2006 and went on to serve as the site's TV Editor before moving over to other roles on the site. At present, she's an Assistant Managing Editor who spends much of her time brainstorming and editing feature content on the site.