Dwayne Johnson Is Diabetes Ambassador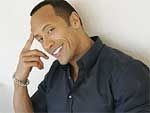 Wrestler-turned-actor Dwayne Johnson is spearheading a new campaign to spread awareness about the dangers of diabetes.
The Scorpion King star, formerly known as wrestler The Rock, has been named the new U.S. ambassador for Diabetes Aware, a public service announcement (PSA) sponsored by charitable organizations Novo Nordisk and the Entertainment Industry Foundation.
The campaign aims to help sufferers of the blood sugar disorder cope with health issues while maintaining their everyday activities, reports People.com.
In the PSA, Johnson - who is not known to suffer from diabetes - says, "We can make a difference in our own families through exercise, eating right and teaching healthy behaviors to our children. I want to encourage families to be active and eat right. Small steps can go a long way in managing diabetes, its complications, and raising healthy, active children."
Johnson, who is father to eight-year-old daughter Simone Alexander, follows in the footsteps of Halle Berry, Dustin Hoffman and Cuba Gooding, Jr. as a spokesperson for the program. (MT/WNWCPL/KL)
Copyright 2009 WENN
Your Daily Blend of Entertainment News