Eminem's Worries Over Writers Block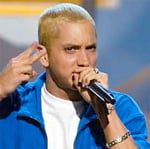 Eminem fears he'll lose his hitmaking touch forever if writer's block seizes him again. The Lose Yourself rapper admits he had a four-year stretch at the height of his drug-using days when he couldn't create great rhymes - and it drove him crazy.
He tells Rolling Stone magazine, "I try to stay recording, because if I don't, I get rusty. I'm very paranoid about writer's block - I had it for four years. No matter how hard I tried, I just couldn't think of s**t. The pills had a lot to do with it. Just wiping out brain cells. I don't know if it sounds like I'm making excuses, but the absolute truth is a lot of my memory is gone." (KL/RS/KD)
Copyright 2010 WENN
Your Daily Blend of Entertainment News
Thank you for signing up to CinemaBlend. You will receive a verification email shortly.
There was a problem. Please refresh the page and try again.