First Look At Marvel's Spider-Women Series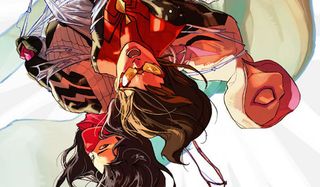 Spider-Man isn't the only arachnid-based hero that's been fighting crime that's running around the Marvel comics universe. For years, Jessica Drew, a.k.a. Spider-Woman, has been fighting crime with her own unique, but still spider-themed, powers. Recent years have also seen the introduction of "Spider-Gwen," a Gwen Stacy from an alternate universe that gained spider-powers instead of Peter Parker, and Silk, a girl named Cindy Moon who was bitten by the same spider that gave Peter his powers. These ladies already worked alongside each other in the massive Spider-Man event Spider-Verse, but now they'll teaming up in their own crossover series.
First revealed this past weekend at New York Comic-Con, Spider-Women will follow the three superheroines in a dimension-hopping event that "will forever change who they are and how they think of their corners of the Spider-Verse." After having a "morning brunch" with Gwen in her universe, a.k.a. Earth-65, Jessica and Cindy find themselves trapped in this other reality, and if that wasn't a problem by itself, their dangerous doppelgängers are on the loose in the main Marvel universe. The series will be penned by the writers of each heroine's solo book: Jason Latour (Spider-Gwen), Robbie Thompson (Silk), and Dennis Hopeless (Spider-Woman). This is the latest Spider-hero book that's been added to Marvel's All-New, All-Different rebrand, which includes The Amazing Spider-Man (starring Peter Parker), Spider-Man (starring Miles Morales), Web Warriors and many more.
Introduced in 1977, Jessica has been a big player in the Marvel universe, be it as an Avenger or an S.H.I.E.L.D. agent. She recently got a costume redesign, and in her new solo series, she'll be fighting crime while pregnant. Silk was introduced during in 2014's The Amazing Spider-Man #4, the opening arc of Peter Parker's return to the Marvel universe following his body being controlled by Doctor Octopus in the Superior Spider-Man series. She has the all the same abilities as Peter, although her spider-sense is stronger and she also has an eidetic memory. As for Gwen, while her main universe counterpart was tragically killed by the Green Goblin, the alternate universe blonde has made a name for herself as her world's Spider-Woman, though she faces many of the same problems that Spider-Man does, be it colorful villains or a public that considers her a menace. Spider-Gwen made her debut in Edge of Spider-Verse #2, and was well received from the one-shot issue and her role in Spider-Verse.
Spider-Women #1 will be available next spring at your local comic book on online at sites like Comixology, but for now, you can check out each respective heroine in their solo books, all of which are being relaunched in the coming weeks.
Connoisseur of Marvel, DC, Star Wars, John Wick, MonsterVerse and Doctor Who lore. He's aware he looks like Harry Potter and Clark Kent.
Your Daily Blend of Entertainment News
Thank you for signing up to CinemaBlend. You will receive a verification email shortly.
There was a problem. Please refresh the page and try again.