George Clooney Reveals His Solution To Fixing Hollywood Sexism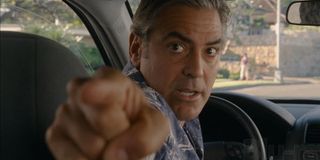 George Clooney likes to fix things. And often, his power in Hollywood, actually can initiate some change. So recently, when the actor-turned-producer changed the male lead in his upcoming film Our Brand Is Crisis to a role for a woman, he began to set a precedent that he hopes others will start to follow.
To Clooney his solution is very simple, just rewrite more male roles for females. While attending the Toronto International Film Festival premiere for the Sandra Bullock-led Our Brand Is Crisis, Clooney referenced the story of how Sandra Bullock's leading role was originally written for a man. It wasn't until Bullock reached out to Clooney to express interest in the project, that the film itself even started to take off. So, Clooney pushed to gender-swap the leading role, and he wants others to do the same. He spoke out during the premiere (via Entertainment Weekly):
While Clooney is a serious advocate for fixing the problems of gender imbalance in Hollywood, it was Bullock's initiative that really set the gender-swap in motion. Bullock told EW that she had not been reading many things she was excited about in the past couple years, so she starting thinking, "'Are there any male roles out there that [the filmmakers] don't mind switching two?'" Since she had already created a relationship with Clooney during their work on Gravity, the actress probably felt comfortable bringing up the topic with her former co-star.
This isn't the first gender-swapping of roles we've seen occurring lately either. We've seen it grow popular in many comic books, but also in film such as the all-female version of Ghostbusters set to release, or the recently cast Ronda Rousey in the Road House remake. Hopefully this is a trend that can continue, so we can see the number of female-led films increase, if not just to even the numbers out, which are dominantly in the male favor.
Your Daily Blend of Entertainment News
Thank you for signing up to CinemaBlend. You will receive a verification email shortly.
There was a problem. Please refresh the page and try again.