Harry Potter Villain Felton Lands Record Deal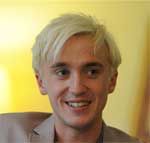 Harry Potter villain Tom Felton is swapping magic for music - the actor has landed his first record deal. The 22 year old, who plays evil Draco Malfoy, has long dabbled with music, creating a YouTube.com account entitled Feltbeats and uploading his performance online. He also has several songs available to download on iTunes.
And as the Harry Potter franchise comes to an end next year (11), Felton is falling back on his love of music - landing a contract with independent label Six Strings Productions. A post on the company's Twitter.com page, says, "We have really really exciting news... Tom Felton has signed and the album is very much on its way." (MJ/WNTWT/ZN)
Copyright 2010 WENN
Your Daily Blend of Entertainment News
Thank you for signing up to CinemaBlend. You will receive a verification email shortly.
There was a problem. Please refresh the page and try again.