Heinz Ketchup Promotion Sends Customer To Porn Site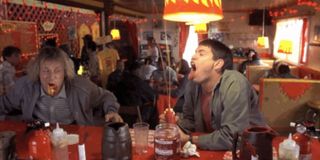 So it turns out when a promotion runs out on the label of a ketchup bottle, the site becomes a porn hub? Well, that's what happened earlier this week when a Heinz Ketchup customer was led to an unsuspecting destination upon attempting to enter a promotional contest.
A German man named Daniel K. looked at the label on his Heinz Ketchup bottle and saw that there was an opportunity to join in on a promotion that would allow him to design his own label. Well it turns out the promotion had expired back in 2014, which considering the shelf life of Heinz Ketchup, really isn't that long. But according to German news site The Local, the bottle was leftover and had been filled with ketchup and sold after the contest. When the promotion was over though, porn site Fundorado jumped into the gap and registered Heinz's former address for themselves. So now, anyone attempting to go to that Heinz promotion site is led to a page full of graphic thumbnail images and porn videos.
Needless to say, Daniel was shocked, and quickly turned to Heinz's Facebook page to complain. The complaint is in German, but The Local translated it to:
Heinz instantly apologized to their distraught customer saying that they regret the event and are happy to take suggestions for how to implement future campaigns. They also offered to let Daniel create his own label and they would send him back a free bottle of ketchup with his print. Because apparently the horror of wandering onto a unsuspected porn site is only worth a bottle of Heinz. The story also took to the porn site's radar, and they chimed in suggesting that Heinz had confused their "Hot Pink" porn website with their "Pink EZ Squirt" ketchup brand (does seem like a plausible porn name?). Fundorado came in with an even better apology for Daniel though, reportedly offering him a free membership to the site. Daniel, for your own sake, read the fine print.
Though Daniel makes a fair point in that this is probably a promotion that kids are likely to stumble upon, it is pretty damn funny to think of a porn site taking over a ketchup website, especially considering the ketchup brand has a product called "Pink EZ Squirt".
Your Daily Blend of Entertainment News
Your Daily Blend of Entertainment News
Thank you for signing up to CinemaBlend. You will receive a verification email shortly.
There was a problem. Please refresh the page and try again.