How Bruno Mars Blew My Mind At The Grammys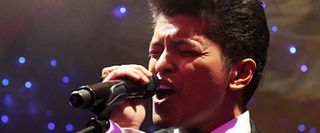 There are no actual good videos of Bruno Mars's Grammys performance available online, which is probably a good thing for this website, since if there were good videos out there I wouldn't really get anything else done today. I watched the Grammys last night the the usual tiresome air of disinterest, as somebody who doesn't really pay much attention to music in general, much less the kind of music that's nominated for Grammys. I was rooting for Adele like every other human on the planet, and I was cringing right along with everybody else seeing Katy Perry's pleather pantsuit and horrible hair that somehow masked the pretty good song she was performing. But I couldn't tell Skrillex and Mumford & Sons apart if you paid me, so I was very much out of my depth when it came to actual knowledge.
Which explains how, when Bruno Mars took the stage to perform "Runaway Baby," I was completely floored. I'd heard his ever-present songs "Grenade" and "Just The Way You Are" of course, but I assumed he was some kind of heir apparent to Maroon 5, a soulful crooner who appeals to teenage girls and once in a while stumbles upon a hit that crosses over with everybody. I had no idea there was a Little Richard hairdo, a gold sparkly jacket, a jazzy backup band, or even a non-white guy as part of the package. The "Runaway Baby" performance was the most energetic and entertaining thing that happened at the Grammys from where I stood, but it was also a powerful reminder for me, an outsider on pop music who was all too ready to write off Bruno Mars as something else I wasn't interested in. Boy was I wrong.
Lucky for me and anybody else who discovered something new at the Grammys, we live in the age of Spotify, and all of these artists are available to further discover all day-- though if you just spend the day listening to "Someone Like You" on repeat as you relapse into Adele fever, I won't blame you. Below is the best video I could find of Mars's performance-- though seriously, it's not that great-- in case you missed it. And if you chime in with a comment, let me know if you had any similar musical discoveries during the Grammys. Anyone out there a newfound fan of Bon Iver? Did Nicki Minaj impress you with her crazy exorcism performance? Share your stories!
Your Daily Blend of Entertainment News
Staff Writer at CinemaBlend
Your Daily Blend of Entertainment News
Thank you for signing up to CinemaBlend. You will receive a verification email shortly.
There was a problem. Please refresh the page and try again.