How Scarlett Johansson Felt About That Strange John Travolta Encounter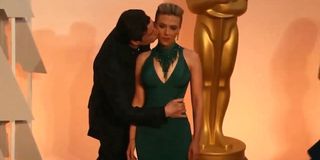 It seems like every time John Travolta appears on television these days, he's doing something or acting in some way that creates odd controversy. Just last weekend during his recent appearance at the 87th Academy Awards he not only got up close and personal with Idina Menzel aka Adela Dazeem but he also took it upon himself to get fresh with Scarlett Johansson. Needless to say, the internet went bananas over it, prompting ScarJo to make make a public statement. What did she think of the whole seemingly strange encounter with the Battlefield Earth actor? Turns out, it may not have been all that strange, after all.A smooch from John Travolta was probably the last thing Scarlett Johansson was expecting while she stood, posing for photos on the red carpet at the 2015 Oscars. But that's exactly what she got. While the above shot, which shows the 61-year-old actor embracing the much younger actress and planting one on her cheek, has not exactly boded well for Travolta, ScarJo has recently come out in his defense, telling Associated Press that the moment was "sweet and totally welcome." She elaborated further on the encounter with Travolta, so as to be completely clear about the situation in question:
Here is the video of the moment shared between Travolta and Johansson. Although he does seem to slide oddly into frame out nowhere and disappear so quickly after the now-infamous kiss, it kind of does look a lot less awkward when shown in full context:
Regardless of the public's perception on Travolta, Johansson does not seem to be bothered by what transpired, saying "there is nothing strange, creepy or inappropriate about John Travolta."
ScarJo and Travolta's relationship dates back to 2004, when the duo worked together on the film A Love Song for Bobby Long. It doesn't look like they will be coming together onscreen again anytime soon as both actors have a pretty busy slate of work ahead of them. Travolta can be seen in the upcoming American Horror Story companion series by Ryan Murphy, American Crime Story: The People v. O.J. Simpson. He will be playing the role of Robert Shapiro.
Your Daily Blend of Entertainment News