How Vin Diesel Paid The Ultimate Tribute To Paul Walker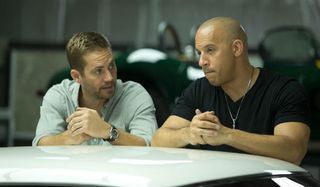 With the upcoming release of Fast & Furious 7 on the horizon, it's been a reminder of the loss of Furious veteran, Paul Walker. And not many feel that loss as much as the late actor's co-stars, especially Vin Diesel. Diesel, who was particularly close to Walker outside of their film franchise, had the opportunity last week to pay the ultimate tribute to his dear friend in one of the most touching ways possible. Diesel and wife welcomed a baby girl into the world on March 16, and the couple chose to name her Pauline, in remembrance of Paul Walker.
Post by Vin Diesel.
Walker, who passed away on November 30, 2013 in a tragic car crash will be featured for one last time on screen in the upcoming Furious 7 film, but to keep his memory alive, his co-star in the franchise, Vin Diesel decided to name his newborn daughter after him. In a recent interview on NBC's Today show, Diesel accounted the event and revealed that he named his daughter Pauline for a very specific reason:
After Walker's death, Diesel opened up about the relationship between the two friends, and he called him a "brother… on and off screen". The two were very close, and Walker also was a part of the Diesel family. Pauline is the third child of Diesel and girlfriend Paloma Jimenez, and Walker had been a big part of Diesel's other children's lives, often referred to as 'Uncle Pablo'.
Post by Vin Diesel.
The reveal of the the new baby's name is a beautiful tribute, as we're sure the release of Furious 7 is bringing up some difficult feelings for Diesel and the Furious crew. You can see Walker's final performance in the action-packed franchise on April 3, 2015.
Your Daily Blend of Entertainment News
Thank you for signing up to CinemaBlend. You will receive a verification email shortly.
There was a problem. Please refresh the page and try again.