The Incredible Hulk's Real Inspiration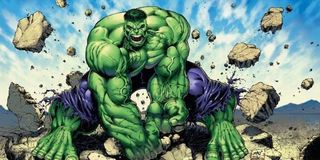 When you think of The Hulk, what first comes to mind is either the character's monstrous appearance or his near-limitless anger. He is a modern day Jekyll and Hyde story, but as it turns out, it wasn't these things that inspired the superhero's creation. Comic book artist Jack Kirby, who created Hulk alongside Stan Lee, apparently came up with the Green (originally gray) Goliath not from the character's anger issues or bizarre appearance, but from what someone can accomplish when forced into action.
io9 has drawn attention to an interview with Kirby originally conducted by The Comics Journal in 1990 (and put online in 2011). In it, the artist revealed that the inspiration for the Marvel rage monster came after he saw a mother lift a car in order to save her child. According to Kirby:
The co-creator also mentioned that he liked each of his characters to have an element of truth in them, so after seeing what a normal person could do in unusual circumstances (Kirby also admitted that he apparently bent steel once), that's how the idea for Hulk was conjured in his head. Of course, while the human body is capable of these extraordinary feats of strength, the similarities to Hulk only go so far in the real world. For one thing, if exposed to gamma radiation, a human would be killed rather than develop an enraged, violent and gigantic personality that likes to cause property damage.
Since being created in 1962, Hulk has gone on to enjoy enormous success both on the printed page and in other projects. His most notable appearances outside of the comics include the 1970's Incredible Hulk TV series (and the following TV movie sequels) and several feature films since 2003. Currently Hulk and his alter-ego Bruce Banner can be seen played by Mark Ruffalo in the Marvel Cinematic Universe, although there are currently no plans to give the character another solo movie.
If you're looking to delve into Hulk's comic book adventures in the near future, his new solo series Totally Awesome Hulk (written by Greg Pak and illustrated by Frank Cho) will be available in comic stores and online later this year as part of Marvel's All-New, All-Different relaunch.
Connoisseur of Marvel, DC, Star Wars, John Wick, MonsterVerse and Doctor Who lore. He's aware he looks like Harry Potter and Clark Kent.
Your Daily Blend of Entertainment News
Thank you for signing up to CinemaBlend. You will receive a verification email shortly.
There was a problem. Please refresh the page and try again.