Here's A Supercut Of All The Times The Hulk Got Really Sad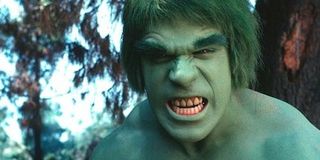 Christmas may nearly be upon us, but not everyone is happy about the holiday season…although to be fair, this particular individual is sad quite often. Check out this video of all the times the 1970s TV got sad during the series run.
Although the Marvel Cinematic Universe has breathed new life into Marvel's Green Goliath, there's still a lot of love for The Incredible Hulk TV series that aired from 1978 to 1982. With that in mind, NBC, the network that purchased the series after it finished airing on CBS, posted this video compilation last week titled "Lonely Hulk." With depressing piano music playing, the clips are moments when Bruce…sorry, David Banner and his alter-ego The Hulk were especially sad. These vary from having to leave a loved one behind to accidentally scaring someone off. Not to mention we get to see the protagonist sulking because he's been ostracized from society. It turns out it really isn't easy being green, although being an enormous rage monster at the same time doesn't help either.
Back before The Hulk was a CGI/motion-capture monstrosity that tore it up on the big screen, this TV series was the way most people were familiar with the character. Although the series didn't have Hulk facing off against super villains like The Leader or The Abomination, the series did an excellent job of exploring the psychology of David Banner and The Hulk, which is a modern day Jekyll and Hyde story. As in the comic books, Banner, played by Bill Bixby, was exposed in gamma radiation during a science experiment. In moments of stress or anger, he would transform into The Hulk, played by Lou Ferrigno.
During the series, Banner went into hiding and traveled across the country to find a cure for his condition. Each episode had Banner helping out people in need, and when facing down criminals and other evildoers, he would usually transform into The Hulk and take them down. It's a lonely existence when you're a scientist that is struggling to control your inner monster. The series, as well as the three TV movies made afterwards, helped popularize the character beyond the comic books, and remains a cult classic to this day.
The Hulk won't be returning to TV anytime soon, but you can find the Green Giant teaming up with Earth's Mightiest Heroes on the big screen next year in The Avengers: Age of Ultron, and he's dealing with the same struggles that his '70s TV counterpart dealt with. Maybe someone could make a Lonely Movie Hulk compilation with the same piano music?
Connoisseur of Marvel, DC, Star Wars, John Wick, MonsterVerse and Doctor Who lore. He's aware he looks like Harry Potter and Clark Kent.