J.K. Rowling's 6 New Harry Potter Stories And Where To Find Them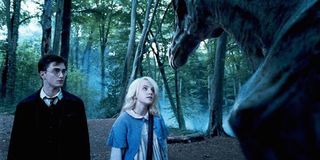 October 31 has arrived and, as promised, Pottermore delivered the goods and then some! J.K. Rowling's official Harry Potter site added Harry Potter and the Order of the Phoenix to the story timeline that runs along the bottom of the site (visible when you're logged in). Hidden in the chapters are six new writings, penned by Rowling herself. Those who unlock these "hidden" essays will learn a bit more about Thestrals, Dolores Umbridge, Professor Trelawney, Azkaban, the Ministers for Magic and Naming Seers.
For the past couple of weeks, Pottermore has been teasing us with tricks and treats, leading up to October 31 (today) when "all will be revealed." Halloween is finally upon us and Harry Potter fans have been rewarded, with Book 5 added to the timeline that's featured at Pottermore, and six essays, which are accessible to Pottermore users through the Order of the Pheonix chapters located along the bottom of the site, when logged in. Here's what they are and where you can find them:
In order to read the new writings, you have to click around the illustration to unlock them. The Independent has provided a little cheat sheet, which reveals where each collectible is located, allowing fans to skip all of the random clicking and head right to the goods. But for those who want to go it alone, they're really not that hard to find.
In addition to gorgeous illustrations of memorable Order of the Phoenix scenes, the add-ons offer fans more information and insight into relevant topics from the book.
Most of the writings are relatively self explanatory from their titles. Dolores Jane Umbridge and Trelawney offer more background information on both mentioned characters. The same applies to Azkaban, the wizard prison, and what's written about thestrals, the magical beasts introduced in Book 5. As for Naming Seers, when I read the title, I assumed it had something to do with how seers get their names, or perhaps, how J.K. Rowling picked the names of those Divination experts (or those who claim to be, as would be the case for Trelawney). However, that's actually not the case. Well, not entirely. We'll leave it vaguely at that, for now.
Finally, the Ministers for Magic writing offers us some interesting background info on how that high-ranking magical position works and a list of who held it throughout the years.
The new additions to Pottermore should give fans plenty to ponder over and enjoy. As great as it might be for J.K. Rowling to write a new Harry Potter story -- perhaps a prequel focusing on the Marauders? -- these essays demonstrate the many aspects of this magical world that have yet to be revealed to us in greater detail. It's not quite the encyclopedia of "everything we ever wanted to know about the magical world" that Harry Potter fans would love to get their hands on, but these updates do play as pieces of parchment torn from that figurative book, filling in blanks and giving us more information to ponder.
And who knows what might prove relevant to the upcoming Fantastic Beasts and Where To Find Them movies? J.K. Rowling is writing the screenplay, after all, and they're set in the same world as Harry Potter, though the story will be set some seventy years before he arrived at Hogwarts.
Your Daily Blend of Entertainment News
Assistant Managing Editor
Kelly joined CinemaBlend as a freelance TV news writer in 2006 and went on to serve as the site's TV Editor before moving over to other roles on the site. At present, she's an Assistant Managing Editor who spends much of her time brainstorming and editing feature content on the site.