Pottermore Posts May Offer Big Clues About J.K. Rowling's Upcoming Story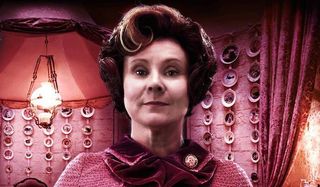 Harry Potter fans are counting down to Friday when "all will be revealed" at Pottermore, J.K. Rowling's official Harry Potter site. The Pottermore Facebook page has been giving us fun little trick and treats, each promising the big reveal on October 31. Looking at all of them together, we're inclined to think that they're clues to this new writing that's coming, and Harry Potter and the Order of the Phoenix may factor in in a big way.
When I started obsessing reading over these Pottermore posts, my original theory was that reported 1,700 word story involving Dolores Umbridge that's said to be coming to Pottermore might involve Bellatrix Lestrange and reveal some kind of duel between the two witches, perhaps back when Bellatrix was first apprehended after Voldemort fell. That's what came to mind when I saw today's Pottermore post...
Post by Pottermore.
The other thing that made me wonder if this ties in to Bellatrix's arrest involves the date of the reveal-to-come (October 31) and this post...
Post by Pottermore.
1981 is the year Voldemort killed Harry's parents. On October 31, in fact. Professor Trelawney's prophecy led Voldemort to pursue the Potters, which he did. He was vanquished and afterward, the Death Eaters were wrangled up and sent off to Azkaban. Azkaban is the word we unscrambled from this crossword puzzle trick...
Post by Pottermore.
The prison is where Bellatrix ended up after Voldemort was vanquished. Azkaban is also where Dolores Umbridge ended up for the awful things she did at the Ministry of Magic. Azkaban is the subject of a new writing, and Umbridge's back story is reportedly set to be explored in a new story going up on Pottermore. If those two things reference the same writing, perhaps the passage will offer some kind of update the sentence Umbridge is serving at Azkaban.
I'm not entirely willing to abandon the theory that we're going to learn some back-story on Umbridge that might involve her facing off with Bellatrix Lestrange. Maybe we will. But upon closer inspection at the Pottermore tricks and treats, it became obvious that Harry Potter and the Order of the Phoenix can be linked to most -- if not all -- of them, right down to the crossword puzzle clues that brought us to "Azkaban."
Going back to Pottermore's first "All will be revealed" posting...
Post by Pottermore.
The above puzzle appears to be a Centaur. The centaur Firenze took over teaching Divination class when Prof. Trelawney was fired by Umbridge in Book 5. And when Hermione tricked Umbridge into going into the Forbidden Forest at the end of Order of the Pheonix, it was Bane (possibly shown above?) who carried Umbridge off. Professor Umbridge expressed an extreme distasted for centaurs.
Later, Harry and some of Dumbledore's army headed off to the ministry...
Post by Pottermore.
...riding thestrals...
Post by Pottermore.
In search of a prophecy by the answer to this trick...
Post by Pottermore.
(The chorus of Robert S. Hawker's "The Song of the Western Men" includes the words "And shall Trelawny die?")
It was Trelawney's prophecy they were after. And it was at the Ministry of Magic that Sirius Black (resident of Order of the Pheonix headquarters, 12 Grimmauld Place)...
Post by Pottermore.
...dueled with Bellatrix Lestrange, who killed him. Duel hint:
Post by Pottermore.
There's also this Barnabas the Barmy post...
Post by Pottermore.
We know there's a tapestry that depicts Barnabas training his trolls, which hangs near the entrance to the Room of Requirement, which is where Dumbledore's Army practiced dueling.
Are all of these Harry Potter and the Order of the Phoenix tie-ins simply meant to point to Dolores Umbridge because she was introduced in that book? Or is there more to it than that? Possibly some filled-in blanks related to what was going on with Umbridge during Harry's fifth year at Hogwarts.
The Harry Potter books are told in the third person, but the focus has always been on what's going on with Harry. There certainly could have been more to Dolores Umbridge's story than what was revealed in Book 5.
I'm also still wondering if there's more relevance to October 31, 1981 than the tie-in of Trelawney's prophecy to Voldemort's attack on the Potters that day. What if Dolores Umbridge was somehow involved in capturing Bellatrix Lestrange after Voldemort was vanquished?
Perhaps tomorrow's trick or treat will shed further light on these hints. And then of course, "all will be revealed" on October 31.
Update: Today's trick focuses on Peeves, the Hogwarts poltergeist!
Post by Pottermore.
The caption references Umbridge and reminds us of the Weasley twins mischief when Umbridge was slowly taking over Hogwarts... and their epic exit. Another Order of the Phoenix nod!
Your Daily Blend of Entertainment News
Assistant Managing Editor
Kelly joined CinemaBlend as a freelance TV news writer in 2006 and went on to serve as the site's TV Editor before moving over to other roles on the site. At present, she's an Assistant Managing Editor who spends much of her time brainstorming and editing feature content on the site.