Jerry Bruckheimer Receives Star On Walk Of Fame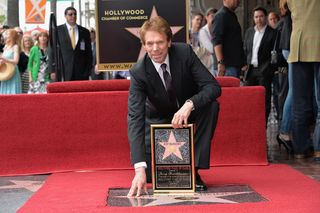 Jerry Bruckheimer has been back in the news lately, thanks to his latest producing endeavor, The Lone Ranger, which is set to hit theaters on July 3. If all goes according to plan, the mega producer should hopefully end up having a pretty good summer between his upcoming movie partnership and today's big event. On Monday, Bruckheimer received his star on the Hollywood Walk of Fame.
Bruckheimer's star can be seen in the above image, along with the nice little plaque the Hollywood Walk of Fame Committee (yes, that's a real thing) puts together for recipients. According to THR, Bruckheimer's star is the 2,501st star given out to a famous name in the years since the inception of the concept. That may seem like a lot of stars, but the committee generally only gives out a dozen or so a year, with some years being more stacked then others. After a person is selected for a star, he or she has five years to schedule a ceremony or the honor will expire, according to the committee.
Monday's a.m. Walk of Fame ceremony included a slew of famous faces, many whom have worked on popular endeavors with Bruckheimer in the past. In the shot above, Bruckheimer stands with Tom Cruise and Johnny Depp. The producer famously worked with the former on the film Top Gun. He's worked with Depp more recently; the two collaborated on each of the Pirates of the Caribbean franchise films. Additionally, Depp stars as Tonto in July's The Lone Ranger release.
Bruckheimer's career began in commercials some time ago. The industry whiz would later expand his career as an associate producer and a producer, putting together plenty of big budget hits, favorably reviewed movies, and even some film classics. Among these are Beverly Hills Cop, The Rock, Crimson Tide, Bad Boys, and The National Treasure movies. He has also had a lively executive producing career in the TV realm in more recent years, signing on to executive produce scripted programs like CSI and favorable reality shows like The Amazing Race. That's not too shabby for a career spanning multiple decades.
In recent years, Bruckheimer has also worked really hard to try and bring an NHL franchise to his beloved Las Vegas. To this point, he's been unsuccessful, but considering almost every damn thing he's ever touched in the movie business has turned to gold, it's hard to imagine he won't be successful in his icy pursuit if he fights for it long enough.
Regardless, Pop Blend sends out its sincerest congratulations to Bruckheimer on his big day. A case could be made that he's brought as many or more smiles to people's faces as almost any other producer in Hollywood, and that's a fine way to leave a mark in this world.
Amazing Race & Top Chef superfan with a pinch of Disney fairy dust thrown in. If you've created a rom-com I've probably watched it.
Your Daily Blend of Entertainment News
Thank you for signing up to CinemaBlend. You will receive a verification email shortly.
There was a problem. Please refresh the page and try again.