Mick Jagger's Daughter Poses Nude For Playboy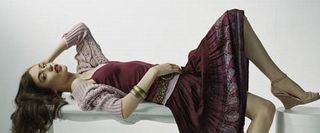 The Beatles were known for being the pretty boys of Rock and Roll while The Rolling Stones were the antithesis, they were bad boys. Living up to her father's name, Elizabeth Jagger, Mick Jagger's daughter, is now posing naked for playboy in this month's issue. Jerry Hall and Mick Jagger's daughter is preparing to spread full on for the magazine, while even making the cover.
The sexy model, who is as gorgeous as her mom, appears to be fully committed to this. She admits that she doesn't mind being naked, telling playboy that "I feel comfortable expressing myself through my body... I'm kind of a topless person. I'm quite European." Only If I could find a girl like that. Ok, I'm moving to Europe. I digress...
The Rock stars daughter, Lizzy, will be featured in a six page, eight photo spread showcasing the 27 year old looking seductive, and smoking cigarettes. Lizzy also insists that her parents are OK with her posing nude for the world to see, "They understand that when you don't know when you're going to have kids, it's nice to have wonderful pictures of your 20-something self." Obviously not shy of being nude, Elizabeth also reveals to Playboy that she has had to avoid a few citations in America for taking off her clothes. On behalf of all men. America! Stop. Being. Prudes. That is all.
Your Daily Blend of Entertainment News
Thank you for signing up to CinemaBlend. You will receive a verification email shortly.
There was a problem. Please refresh the page and try again.