Road Trip Actress Dies In Strange, Surgery Related Incident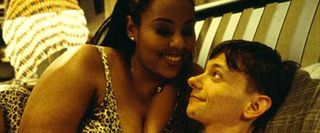 Remember the movie Road Trip? You know the one; it was American Pie, but with a road trip. Amongst all the R-rated raunch for me, one scene always stood out. You know the one. It was that scene where DJ Qualls and "Rhonda" have sex.
The actress who played DJ's plus-sized black beauty was model Mia Amber Davis. Davis died on Tuesday, too young, at the age of only 36.
The story of her passing is sad and cause of death is still unknown. Just a few days ago the voluptuous actress went into surgery for an old sports injury, and after being released complained of nausea and dizziness. When re-admitted into the hospital, she fell into a coma and died. Her husband of three years, Mike Yard, is left rocked by the news. Talking to TMZ.com, he says: "I want to know what happened to my wife."
The full figured actress broke out in 2000, and landed her first role in director Todd Phillips' raunch-comedyRoad Trip. Afterwards, Davis appeared in numerous films (unaccredited) as a stand-in for Queen Latifah. Those movies included the likes of The Perfect Holiday and Life Support.
Questlove, from The Roots, took to twitter to pay tribute to this gorgeous women's life, "Road Trip was JUST on TV night b4 (sic) last! R.I.P. Mia Amber Davis, Plus-Size Model & Road Trip Comic Seductress."
She won't be forgotten. Watch Mia in the best scene from Road Trip, below.
Your Daily Blend of Entertainment News
Thank you for signing up to CinemaBlend. You will receive a verification email shortly.
There was a problem. Please refresh the page and try again.