Rosario Dawson Goes Ass To Ass With Rose McGowan For Rolling Stone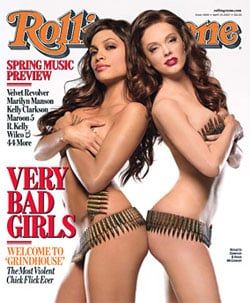 Rosario Dawson and Rose McGowan are baring all on the cover of rock magazine Rolling Stone - wearing nothing but bullet belts. The sexy ladies are co-stars in Quentin Tarantino and Robert Rodriguez new Grindhouse double-bill, which the magazine has dubbed "the most violent chick flick ever made".
Dawson reveals tiny McGowan had to stand on a box to make sure her bottom touched her co-star's. She says, "She actually had to be on an apple box to make sure that our butts touched and our shoulders touched."
Inside the publication, the actresses are snapped sweaty and grimy, wearing only dirty vests as they pose for an arm-wrestling contest.
Dawson admits she checked with her brother, who DJs at a strip club, before agreeing to bare all for the publication: "He was like, 'Well, you know, I saw you (naked) in ALEXANDER (and) you're pretty fit, so that's alright."
Copyright 2007 WENN
Your Daily Blend of Entertainment News
Thank you for signing up to CinemaBlend. You will receive a verification email shortly.
There was a problem. Please refresh the page and try again.