Santa Claus Is Getting A Dark, Gritty Reboot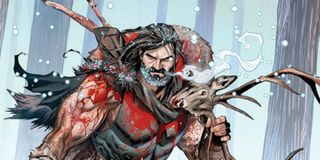 Iconic characters from all eras and formats have been rebooted with regularity, and now one of the biggest icons from folklore will be getting his very own modern retelling. Prepare for the dark and gritty comic book reboot of Santa Claus.
According to GQ, Kris Kringle is about to get a whole lot more badass in an upcoming comic book miniseries that will provide the iconic character with a gritty reboot from his traditional backstory. Titled Klaus, the miniseries will be penned by comic book legend Grant Morrison – whom you either love or hate – and will take Santa Claus from jolly fat man in a red coat to burly Norse hunter from the frozen north.
The basic premise of Klaus revolves around his return to a town known as Grimsvig. A once pleasant locale, the town has since been turned into a living hell, as an oppressive ruler uses totalitarian tactics to confiscate toys from children, in order to make his own son happy. Needless to say, such a style of rule does not sit well with this version of Santa, which leads him to take up arms. Despite its more gritty take on a traditional subject, Grant Morrison has stated that he intends to keep Klaus tasteful enough that it can be enjoyed by people of all ages. In other words, don't expect any Red Wedding-esque scenarios to rear their heads at this Christmas celebration.
As you can see from the image above, this new and improved version of Santa Claus is all muscle - a true outdoorsman who is unafraid to trek through the wilderness, killing what he needs to survive. Morrison's intention here seems to be to take the generous and jolly old man we've all come to love, and inject the traits of a traditional hero into his characterization. Imagine a Christmas themed version of the mighty Avenger Thor, and you're getting close to the right track with this idea.
Across all forms of media, reboots have become all the rage these days. Sometimes they work – as was the case with Batman and James Bond. Other times they flounder, as we don't even want to talk about The Amazing Spider-Man . Love them or hate them, the simple truth is that they are now a fact of life. As ridiculous as the concept behind Klaus sounds, in the right hands and with the right treatment, it could totally work out.
Most importantly, Grant Morrison has a knack for taking utterly insane story material and making a masterpiece out of it. For him to be the one to reinvent Santa Claus is probably the most sensible way to bring a new spin on the subject. It has become a very common saying amongst Conservatives that there is an ongoing "war on Christmas," and if that's true in any capacity, we imagine that this iteration of Santa is incredibly excited to lead the charge in defense of the Yuletide.
Grant Morrison's Klaus is on comic store shelves now.
Your Daily Blend of Entertainment News
Originally from Connecticut, Conner grew up in San Diego and graduated from Chapman University in 2014. He now lives in Los Angeles working in and around the entertainment industry and can mostly be found binging horror movies and chugging coffee.
Your Daily Blend of Entertainment News
Thank you for signing up to CinemaBlend. You will receive a verification email shortly.
There was a problem. Please refresh the page and try again.