Stephenie Meyer Hopes The Host Will Be A Trilogy, Is That A Good Thing?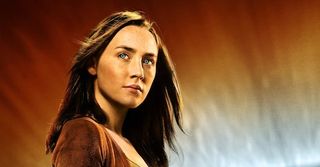 With The Host headed into theaters next month, Stephenie Meyer fans have likely been wondering when we'll see the next novel from the author. The Host was published in 2008, almost five years ago. Anyone who's aware of Meyer's work knows she's had her hands full with the Twilight films. But with the vampire series and its adaptations wrapped up, does that mean she'll have more time to work on the sequel to The Host? Meyer's commented on that recently, while doing press for the anticipated feature adaptation of the book - or the first book, as she says she hopes that this will be a "three book arc."
The Host has Meyer moving away from vampires and over to aliens, telling a story set on earth after aliens have taken over the bodies of most of the human population. The book follows Wanderer, an alien "soul" who inhabits the body of one of a young woman named Melanie, who's part of the remaining human resistance up until she's captured, and who refuses to vacate her mind when Wanderer takes over. Veering a bit away from romance (though there is some of that), the story explores humanity, love and survival with a sci-fi twist.
When we spoke to Meyer last week, she told us she is working on a sequel to The Host, but - understandably so - finding the time to write the follow-up to her alien invasion story has been an issue, between the film and her other commitments, including her family, producing Austenland and the adaptation of Lois Duncan's Down a Dark Hall, she's got her hands full.
So, while it does sound like she'd love to sit down and get it finished by the summer (after which there'd be editing, possible rewrites and updates, which could prolong the process), that might be too soon to hope for.
Meanwhile, the Associated Press got their own update on the status of the sequel, or sequels as it could be. Meyer mentioned a possible plan for a trilogy when she spoke to them, saying:
So, if things go as Meyer hopes, there would be two more books to complete the story. Based on the first book alone, I'm actually not sure if I consider this the best news. I say this because I really liked The Host and I liked how it ended. To me, the semi-open-ended story left off with hope for mankind and the main characters. While it might be interesting to see what happens next, I don't actually feel like I need to. I might prefer a spin-off or another story set in that world that steps away from Melanie, Wanda and the rest of that group.
Of course, I'll happily eat my words if and when Meyer does get the next book published and it turns out to be great. It certainly sounds like she has ideas for her characters' futures. On a more positive side, The Host was a better story than Twilight, and a follow-up could give the author the opportunity to really expand and build on what she started in the first book. But if she announced that she was working on a new novel unrelated to The Host, or some kind of spin-off or prequel to The Host, I don't think I'd be especially disappointed.
In the meantime, I'm eager to see if The Host's feature adaptation lives up to the promising trailers. The film arrives in theaters March 29. More info, photos and videos here.
This poll is no longer available.
Your Daily Blend of Entertainment News
Assistant Managing Editor
Kelly joined CinemaBlend as a freelance TV news writer in 2006 and went on to serve as the site's TV Editor before moving over to other roles on the site. At present, she's an Assistant Managing Editor who spends much of her time brainstorming and editing feature content on the site.