New Study Says Even Light Smoking Increases Health Risk In Women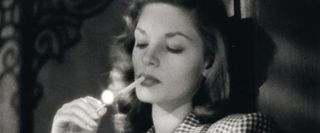 A good chunk of the population has turned on smoking over the past few decades. Many who do smoke do so on a 'light basis' but a new study says women who indulge in light smoking—defined as 1 to 14 cigarettes daily—are still nearly two times more likely than nonsmokers to die of sudden heart attacks. Women who smoke more than 25 cigarettes daily were more than three times more likely to die of cardiac issues.
University of Alberta scientists decided to look into the relationship between smoking and cardiac health, as well as to look at how long women smoked and whether duration had an affect on the health numbers. To get to the numbers in the first paragraph, the University of Albert employees looked at a famous study called the "Nurses Health Study", which interviewed over 101,000 women during a 30-year period, keeping track of rate of smoking, age (if any) of quitting smoking, and heart problems. While the study is seemingly enlightening, noting women who do smoke are much more likely to have health problems, there is potential good news for those smokers, whether light or heavy, who have decided to quit.
According to Time, women who quit smoking showed a decreased risk of having cardiac problems as the years went on, and after 15 to 20 years that elevated risk decreased completely, putting former smokers at the same levels healthy nonsmokers were at. Clearly there were some problems with this study, including an overwhelming number of Caucasian participants and a lack of other races; however, it does affirm something people should already know. Smoking causes health problems, even if you are a light smoker (although I think it's pretty broad to say light smoking is 1 to 14 cigarettes a day), and quitting can help women get into better shape, health-wise, over time.
The study was published in the journal Circulation: Arrhythmia and Electrophysiology, so if you'd like to read further, check the journal out.
Amazing Race & Top Chef superfan with a pinch of Disney fairy dust thrown in. If you've created a rom-com I've probably watched it.
Your Daily Blend of Entertainment News
Thank you for signing up to CinemaBlend. You will receive a verification email shortly.
There was a problem. Please refresh the page and try again.