Twitter Users Shocked To Learn Neil Armstrong Died...A Year Ago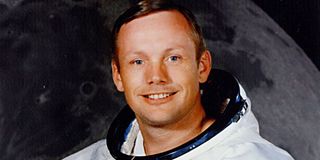 Death hoaxes are not uncommon in the social media sphere, especially when celebrities are concerned, but on Tuesday, an unlikely death hoax was picked up and disseminated to the populace, spurred by the social media network Twitter. The hoax let the universe in on the knowledge that Neil Armstrong supposedly died this week. The only problem is that the famed astronaut who became the first man to set foot on the moon in 1969 actually died a year ago. So, if you've been spending the day wondering why people are still talking about the VMA's and Miley Cyrus' big performance rather than this tragedy, there's a reason why.
A year ago, Neil Armstrong succumbed to his death at home. He was suffering from complications that arose after a heart-bypass surgery, and his death was untimely. He was 82, but was still spry in recent interview before his death. At the time of his passing, he left behind his wife, Carol, two sons, a stepson, a stepdaughter, and ten grandchildren. There's no doubt that he has been missed by many people over the past year, but apparently not everyone got the memo that the astronaut died twelve months ago.
On Tuesday, a version of an ABC News article that was first published on August 25, 2012 called "Neil Armstrong Dead; Apollo 11 Astronaut Was First On Moon" ended up popping up on the company's mobile app with a current date, leading people to believe the famous astronaut's death actually occurred today. All of the people clicking on the link helped it to push to the top of ABC's "trending" list, which in turn, helped the news to blow up on Twitter.
The outlet mediaite re-posted some of the best tweets on the topic, including the following from twitter user Sarah Rumpf, which catches ABC mobile app date mistake in all of its glory.
Apparently, the news that Armstrong died is still a shock to some, as the Twittersphere is still blowing up with exclamations regarding the man's demise.
Neil Armstrong was an American hero who was able to go on journeys into a wild frontier that most of us cannot even begin to imagine beyond a cinematic scope. He set foot on the moon and spoke with the idealism of someone who truly believed in giant leaps for mankind. His death may not have affected most of us personally, but it was still a sad day for America, and a year later, it's still upsetting—especially for those who are reading the news for the first time.
Amazing Race & Top Chef superfan with a pinch of Disney fairy dust thrown in. If you've created a rom-com I've probably watched it.
Your Daily Blend of Entertainment News
Thank you for signing up to CinemaBlend. You will receive a verification email shortly.
There was a problem. Please refresh the page and try again.