Two And A Half Men Star Ashton Kutcher Is Tired Of Charlie Sheen Attacking Him On Twitter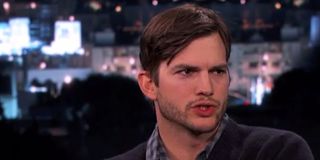 It's been three years since Ashton Kutcher took over as the lead on Two and a Half Men, the show that Chuck Lorre created and remade Charlie Sheen's stardom. Since that time Sheen has apparently berated Kutcher via Twitter incessantly, and now Kutcher has made an official public plea with Sheen on Jimmy Kimmel Live Wednesday night.
"Dude, shut the fuck up!" Ashton exclaims in probably one of the most charming versions of that phrase uttered in the public eye. Kutcher is no stranger to Twitter, he was on board with the mini-blog giant when it was the domain of the geek leaders like Leo Laporte and Veronica Belmont. He saw the marketing potential early on, adopted the system, and is now one of Twitter's savviest users. As such, he's used to such shenanigans.
But even veteran Twitter users have a limit, and 3 years of being hounded is about right. The video below is the interview segment with Kutcher on Jimmy Kimmel Live, the pertinent part starts at around the 3 minute mark.
And for reference, here's the latest tweet from Charlie to Ashton that caused the plea.
This morning Charlie apologized to Kutcher via Twitter, saying the following:
Of course, Charlie's odd use of Twitter makes it hard to determine when he's sincere or sarcastic. The words read the right way, but something about that ee cummings delivery style always feels off. As of this writing, current Two and a Half Men star Ashton has not responded to Charlie's apology.
Your Daily Blend of Entertainment News
Staff Writer at CinemaBlend.