Vanessa Minnillo Knifing Own Career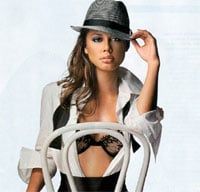 Entertainment Tonight co-host and backstage diva Vanessa Minnillo has been identified as the sidekick in the recent Lindsay Lohan knife-wielding, soft-core lesbian pics. The former MTV Vee-Jay, whose slow rise to prominence stalls whenever she appears in the news, did not renew her contract with "ET" allegedly because of crummy behavior behind the camera, and this doesn't help her case any. Poor Lindsay, takin' folks down the toilet even when she's under intensive care.
The risqué pictures show Minnillo pulling down Lohan's shirt, playing with knives and almost necking with the wasted actress, currently in rehab for such behavior. A source at US Magazine reports, " she got caught in the moment and thought it would be fun. " Until someone loses an eye. But who knows, maybe she was as wrecked as La Lohan. Minnillo's rep told The New York Post her behavior was not involved. "She chose to leave "ET" because her contract ended. This is the first I've heard about any bad behavior." Recently Minnillo, 26, co-hosted the Miss Universe pageant in Mexico City with Mario Lopez – whose own career is headed northward - and is now worried her silly antics could damage an already tarnished reputation
Vanessa's character already precedes her by a mile. Covering the Grammys in February for "ET" a source reports "she was extremely high maintenance. Insisted they (CBS) fly her own hair and makeup people and her personal assistant out with her every time she flew… she only flew first class and stayed at the Four Seasons, and then she didn't want to work. Vanessa wants to be a celebrity, not interview them." "ET" did not assign her to cover the Academy Awards in March, possibly for such antics.
Her relationship with tries-really-really-hard-heartthrob Nick Lachey, on for almost a year, seems to be cooling off. Displaying a short fuse recently at a New York nightclub, the ex-Mr. Jessica Simpson got an earful when Vanessa found him chatting a bevy of beauties. And in February at the Grammy's the couple attended a pre-party for Justin Timberlake when Jessica's assistant kept barging her way forward to chat with Nick. Later on, rumors had it that Nick spent the rest of the night trying to calm down the jealous gal. Now would Carson Daly or Mary Hart ever behave this way?
Your Daily Blend of Entertainment News