Watch Bill Murray Tell A Joke For The Pope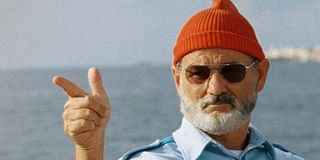 We can't get enough of Bill Murray these days. It seems like the beloved actor has only become an even more lovable pop culture figure in the past few years, and I'm sure not complaining about it. Well, Murray is apparently the titled Honorary Advisor for Pontifical Comedy. So as his job is to deliver jokes that encourage both charitable giving and laughter, the 65-year-old actor participated in the "Joke With The Pope" campaign, and came up with a pretty hysterical punch line. Take a look:
The digital campaign entitled "Joke With The Pope" is produced by an app called Missio which was created by the Pontifical Mission Societies. It's a campaign open to the public, not just Catholics, that asks people to "Donate" a joke to a charitable cause. There are three causes to support: housing the homeless in Addis Ababa, Ethiopia; helping street children in Buenos Aires, Argentina; or feeding the hungry in Nairobi, Kenya. The Pope himself has spoken out about why the campaign was created (in a statement via CNN).
Regardless of religion, the theme is that people like to laugh. And that sure is something that many celebrities, including Bill Murray want to get behind. Also, for those who donate a joke up until October 2, there will be one winning joke that will receive a $10,000 donation to their selected cause. Murray's joke is pretty witty, but there have also been a number of other funny people that have donated their jokes. One in particular, Conan O'Brien, even mentions the Pope in his joke:
A panel of judges, possibly with the help of the Honorary Advisor for Pontifical Comedy, Bill Murray, will choose a winner on October 5. And the funniest joke may eventually even make it to the Pope Francis. You can donate your own joke at jokewiththepope.org.
Your Daily Blend of Entertainment News
Thank you for signing up to CinemaBlend. You will receive a verification email shortly.
There was a problem. Please refresh the page and try again.