Cunk On Earth: 5 Things To Know Before You Watch The Netflix History Mockumentary Series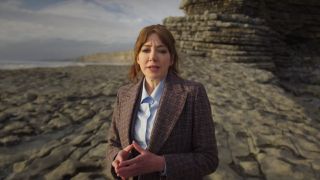 (Image credit: Netflix)
Netflix has long been home to spectacular docuseries and irreverent comedies, and one of the streaming platform's latest additions takes both genres and mixes everything together to give viewers one hilarious, and surprisingly insightful series: Cunk on Earth. The docuseries, which was one of the new movies and TV shows on Netflix that debuted at the end of January 2023, has a little something for those who find themselves in the middle section of the Venn diagram that has history on one side and comedy on the other, creating an experience like none other.
If this is the first you're hearing about the new history mockumentary series about a "historian" tracing the steps (and missteps) of human civilization, or if you've seen it on your home page but don't know what it's about, worry not, because we're about to break down a few things to know before you watch the new series, including its tone, episode count, and other details to keep in mind.
Cunk On Earth Is A Mockumentary Docuseries Chronicling Human Civilization
Cunk on Earth follows Philomena Cunk, a character created by comedian and actress Diane Morgan, as she explores the history of human civilization, going all the way back to the "beginnings" of humanity, with a comedic bent. Through interviews with actual experts in fields like archaeology, museum curators, and various other experts, Cunk attempts to gain a better understanding of humanity's existence, contributions, and missteps along the way. And though it's presented in a very straightforward approach similar to something you'd see on PBS or BBC (where it originally aired), this is very much a mockumentary.
Cunk On Earth Feels Like A David Attenborough Documentary Told Through The Lens Of The Daily Show
One of the best ways to describe Cunk on Earth, going back to the Venn diagram example from the introduction, is to imagine a David Attenborough documentary crossed with interview segments from The Daily Show, where the seemingly normal interviewer asks a series of preposterous questions to experts in various fields. Whether the historians being interviewed are in on the joke is a mystery left unrevealed, but their earnest approach to their answers is comedy gold.
Cunk On Earth Is Split Into Five Half-Hour Episodes Covering A Variety Of Topics
Cunk on Earth is split into five half-hour episodes that are to be watched in sequential order, unlike the nonlinear Kaleidoscope, which kicked off Netflix's January 2023 offerings. These episodes start with "In the Beginnings," a retracing of early man's first steps, and conclude with "War(s) of the World(s)?," a retelling of the "Space Race" that poses questions about humanity's uncertain future.
Diane Morgan's 'Philomena Cunk' Character Has Appeared On Several BBC Shows In The Past
Though this is the first time the Philomena Cunk character has been on a Netflix series, Diane Morgan has been using the persona for the past decade, appearing on various BBC productions including Charlie Brooker's Weekly Wipe and Cunk and Other Humans. She also wrote the 2018 book Cunk on Everything: The Encyclopedia Philomena, which covered a number of topics.
The Mockumentary Series Is Rated TV-MA For Language And Nudity
Cunk on Earth doesn't get as deep in the weeds of mature content as much as some of the true crime documentaries on Netflix or some of those sexually explicit movies on the streamer, but it should be noted that the mockumentary series does carry a TV-MA rating. This is due to language, nudity, sex, and other mature topics on display throughout the five-part series.
If you want to check out Cunk on Earth, you can do so right now as the full series is streaming for anyone with a Netflix subscription.
Stream Cunk on Earth on Netflix. (opens in new tab)
Your Daily Blend of Entertainment News
Philip grew up in Louisiana (not New Orleans) before moving to St. Louis after graduating from Louisiana State University-Shreveport. When he's not writing about movies or television, Philip can be found being chased by his three kids, telling his dogs to stop yelling at the mailman, or yelling about professional wrestling to his wife. If the stars properly align, he will talk about For Love Of The Game being the best baseball movie of all time.