Ant-Man And The Wasp: Quantumania Was Fine, But Here Are 4 Reasons I'm Still Concerned About Avengers: The Kang Dynasty
Avengers: The Kang Dynasty has been on my mind.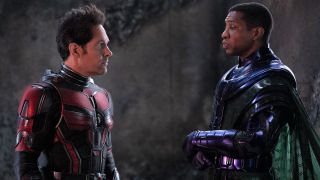 (Image credit: Walt Disney Studios)
Major spoilers for Ant-Man and the Wasp: Quantumania lie ahead, so read at your own risk.
Ant-Man and the Wasp: Quantumania is finally here, and the responses to the latest entry in the Marvel Cinematic Universe have been interesting, to put it mildly. The highly anticipated superhero threequel has proven to be one of the most polarizing films in the extensive franchise. While some are praising it for its comic book-esque kookiness and ability to buck Marvel trends, others are admonishing it for its tone and narrative decisions. Some may have found it to be a swing-and-a-miss for the entertainment giant, but I thought it was mostly fine. Nevertheless, there are four reasons why I'm a bit concerned about the film it's setting the table for: Avengers: The Kang Dynasty.
The upcoming Avengers installment has a few things in common with the Ant-Man trilogy's capper. Obviously, there share an antagonist, but both productions also have the same screenwriter: Jeff Loveness. In most cases, I prefer to give creatives the benefit of the doubt but, after seeing what Loveness did with Quantumania, there are a few things that are nagging at me in regard to the future.. So let's talk out the four reasons I have concerns about Marvel Studios' next culmination flick:
Ant-Man And The Wasp: Quantumania's Story Wasn't As Cohesive As It Could've Been
Some ambitious stories have come out of the MCU over the years, but Kang Dynasty has the potential to be one of the biggest. This is due to the fact that Earth's Mightiest Heroes will tangle with a timeline-hopping warlord, who just happens to have an infinite number of counterparts across the multiverse. (And here we thought a purple madman searching the galaxy for cosmic stones was wild enough.) There's going to be a lot of narrative real estate to cover, and one has to wonder if Jeff Loveness can handle it.
While I did enjoy aspects of what the Rick and Morty scribe brought to the table in Quantumania, parts of it were messy. The third act, in particular, could be somewhat disorienting at times. With even more plot threads likely at play in Avengers 5, you can't help but wonder if the writer will be able to balance everything effectively. He's got a big task in front of him. But at the very least, he'll have a firm collaborator in Kang Dynasty director Destin Daniel Cretton (of Shang-Chi fame) to help him smooth out the story.
The Tone Of The Ant-Man Threequel Was Uneven, And That Can't Be The Case For Avengers
Early on, it was established that the Ant-Man series would serve as light-hearted MCU fare, and that approach worked for the first two films. The third one upped the ante in a big way and, though it was refreshing, it made the tone feel rocky at times. The flick sought to put Scott Lang, Hope van Dyne and co. at the center of a more dramatic tale, but it also tried to maintain the same level of humor as its predecessors. At times, it felt like these two vibes were at war with each other, leading to moments of levity infringing on more serious scenes and vice versa.
Please believe me when I say that, I'm absolutely not aiming to take constant jabs at Jeff Loveness' writing. And to be fair Christopher Markus and Stephen McFeely (who wrote massive MCU flicks like Avengers: Infinity War and Endgame) injected plenty of humor into their scripts as well. However, they knew how to deftly balance drama and comedy with spectacle. Tone is going to be incredibly important for Loveness' next outing, especially since he'll be writing for a slew of other established characters.
The Plethora Of Kang Variants Can Become Tiresome If Not Handled Correctly
Quantumania's post-credits scene gave fans their first look at the Council of Kangs, which was a sight to behold. Comic book fans, of course, knew that there'd come a time when they'd see multiple versions of the conqueror in one place, but it was really something to watch Immortus, Rama-Tut and Centurion conversing, while a number of other Kangs cheered on their machinations. And let's also not forget the reveal of the Victor Timely variant, who'll pop up in Loki Season 2. As cool as all of this is, I'm wondering if the creative team will be able to utilize so many variants effectively in a single film.
The notion of having multiple Kangs in one movie is cool, and it helps to differentiate this story from the Avengers' battle with Thanos. Yet this could all easily go off the rails if not handled properly. In fact, the continuous onslaught of variants could get repetitive and even hokey, depending on how other iterations of the villain are characterized. The ones we've seen so for seem well done, but you can't help but hope that these alter egos don't get too loopy. Super producer Kevin Feige and co. have clearly been putting a lot of time into getting this beloved baddie right, and one can only hope they're able to juggle his multiple personas when they do battle with the heroes.
Quantumania Didn't Take As Many Big Narrative Swings As Fans Expected
There were major expectations when it came to Quantumania's story, and some wild rumors were flying. One of the most consistent was that Scott Lang might die (which, I would've been fine with). Ultimately, the movie played it relatively safe, even keeping Lang and Hope from being stranded in the Quantum Realm during the closing moments. It's not exactly wrong for a production to stay inside the lines but, when it comes to a massive film like this, it's to be expected, and I hope that will be the case for The Kang Dynasty.
Now, of all the MCU installments, the Avengers movies have consistently been the ones to provide some interesting developments. I still love the fact that Infinity War saw half of the universe get snapped away and that the subsequent Blip is still impacting the cinematic universe. With this upcoming film, Kevin Feige, Jeff Loveness and their colleagues are going to want to step it up by taking some (well-thought-out) chances that both fit into the story being told and pave the way for Secret Wars.
We've still got plenty of time before Earth's Mightiest Heroes assemble once more, and it's pretty much guaranteed that Marvel Studios is working hard to get the next team-up move in good shape. I'm looking forward to it and am sincerely hoping that it manages to pull everything off a bit more smoothly than this latest superhero epic.
Ant-Man and the Wasp: Quantumania is now playing in theaters, and you can stream past MCU flicks using a Disney+ subscription.
Your Daily Blend of Entertainment News
Covering superheroes, sci-fi, comedy, and almost anything else in film and TV. I eat more pizza than the Teenage Mutant Ninja Turtles.