Ant-Man Star Paul Rudd Had His Kid Convinced For Years He Worked At A Movie Theater
And he never corrected him!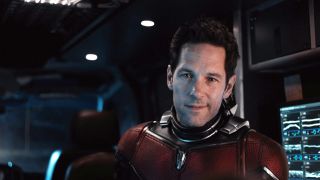 (Image credit: Marvel Studios)
Paul Rudd might be known as one of the sexiest men alive and an A-list Hollywood star to movie-going audiences, but to his kids, he's just dad. So, it should be no surprise that since the Avengers: Endgame star didn't sit his kids down and explain what he did for a living, it led to confusion for the non-aging actor's household. Mainly, at least one of his kids was convinced that he had worked at a movie theater for years. And Rudd, who is known for his pranking shenanigans, didn't bother to correct this story.
In a preview clip released Thursday of an upcoming episode of Sunday Today With Willie Geist, the I Love You, Man star says his son, Jack, saw one of his movie posters while attending a movie with some friends and he just assumed his dad worked there, which, the actor says he didn't have the heart to correct him because he thought the mistake was too cute. Rudd joked:
That is pretty adorable of his son to assume, and maybe just as adorable that Rudd didn't want to correct him.
The Wanderlust actor added that it was years before his son realized that his father was Ant-Man himself--yes, the Paul Rudd. While his kids might have finally made the connection to who their father, the actor, is outside of his home life, in true Rudd fashion, he tried to keep the joke going. The actor told the show host, over the years, he would say to his son:
That is so like Rudd to keep a gag going for so long. For years, the actor pulled a long-running prank on talk show host Conan O'Brien where instead of bringing a promotional clip for a movie he starred in, the actor would bring the same hilariously bad clip of the poorly received McDonald's produced (you read that right) E.T. The Extra-Terrestrial rip-off Mac and Me to every interview. You can see Bill Hader completely lose it as Rudd crashes his Conan interview and pulls the prank off one final time in the clip below.
We can only speculate whether or not children found this sort of long-running joke as funny as the SNL alum did. When the father of two and funny man isn't pulling one over on his kids, he is starring in highly anticipated upcoming Marvel Movies. You can see how Phase 4 concludes when Ant-Man and the Wasp: Quantumania blasts into cinemas on February 17th.
Your Daily Blend of Entertainment News
Ryan graduated from Missouri State University with a BA in English/Creative Writing.