Marvel's Jonathan Majors Weighs In On The Idea Of Kang The Conqueror Meeting Robert Downey Jr.'s Iron Man
Could Kang and Tony Stark meet up in the MCU?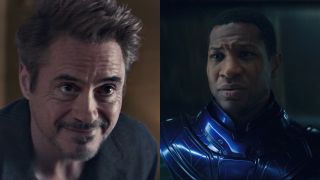 (Image credit: Marvel Studios)
There's a new villain in the Marvel Cinematic Universe, and his name is Kang the Conqueror. The timeline-altering Big Bad is poised to play a major role during the sprawling franchise's Multiverse Saga. But what's even more exciting is that he's portrayed by the absolutely stellar Jonathan Majors. As the villain's machinations take shape, one can't help but wonder how since departed MCU heroes like Robert Downey Jr.'s Iron Man would've interacted with him. And apparently, that's something Majors thinks about, too, as the actor weighed in on the notion of his character meeting Tony Stark.
The MCU began with Robert Downey Jr.'s Tony Stark, whose emergence as the Armored Avenger set the tone – both in and outside of the fictional universe. Of course, Stark died during the events of Avengers: Endgame, sacrificing himself to save the universe from Thanos. Neither the character nor Downey's performance have been forgotten by fans or his peers. Jonathan Majors is a major admirer of the actor and heaped some major praise on his turn as the genius, billionaire, playboy and philanthropist:
Few people would disagree with the sentiments that the Devotion star shared with Lifehacker. In some respects, it's difficult to even say where RDJ begins and where Tony Stark ends. While the Oscar nominee brought his signature wit to the industrialist, he employed a true sense of humanity, which was especially on display during films like Captain America: Civil War and Avengers: Endgame. The thought of the layered hero crossing paths with Kang the Conqueror is interesting, and Jonathan Majors is totally down for it happening at some point:
Such a meet-up would be quite a sight. Some of you might immediately think that such a run-in would be impossible at this point, considering Tony Stark's demise. But again, we're dealing with the multiverse here, and a variant of the hero could indeed cross paths with Kang, especially in either Avengers: The Kang Dynasty or Secret Wars.
One of the most interesting portions of Jonathan Majors' comments is the stark (no pun intended) contrast he makes between Kang and Tony. More recently, he's been addressing the way the character differs from others like Loki's He Who Remains, saying that there are no similarities between the two. It was also inevitable (again, no pun intended) that Thanos would be compared to Kang, though Majors sees these two as being very different as well.
Though MCU fans only got a taste of one of his variants on Loki, they'll get to see Kang proper when he steps up as the main villain in Ant-Man and the Wasp: Quantumania, which has received positive reactions thus far. I'm excited to see what this version of the character does. Also, though I'm satisfied with how things wrapped up for Tony Stark, I'll remain curious regarding whether Robert Downey Jr. reprises the role in Ironheart, Secret Wars or any other production. And if he doesn't return, I'm sure fan fiction devotees will create their own meeting between two of the greatest minds in the cinematic universe.
Check out Jonathan Majors as Kang the Conqueror when Ant-Man and the Wasp: Quantumania opens in theaters on February 17 as part of the schedule of 2023 new movie releases and stream past Marvel movies and TV shows using a Disney+ subscription.
Your Daily Blend of Entertainment News
Covering superheroes, sci-fi, comedy, and almost anything else in film and TV. I eat more pizza than the Teenage Mutant Ninja Turtles.