Ant-Man And The Wasp: Quantumania Has Screened, See What People Are Saying About The MCU Phase 5 Opener
Lots of thoughts about Jonathan Majors' Kang the Conqueror.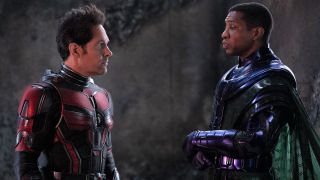 (Image credit: Walt Disney Studios)
It's been a few years since we've seen Paul Rudd suit up as Ant-Man in the sequel Ant-Man and the Wasp and Avengers: Endgame. The tiny superhero is back in Ant-Man and the Wasp: Quantumania, which has been tapped to not only usher the MCU into a new year but to kick off Marvel's Phase 5. Anticipation is high, as Ant-Man will find himself getting sucked into the Quantum Realm and meeting Marvel's next big villain — Kang the Conqueror, who did some pretty awful things in the comics. The movie premiered in Los Angeles on February 6, so let's check out some of the first responses to the screening.
Jonathan Majors, who dedicated himself to getting into shape for this role, made his Marvel Cinematic Universe as the Kang variant He Who Remains in Loki, but audiences will obviously see a very different character when Ant-Man and the Wasp: Quantumania hits theaters on February 17. The trippy trailer promises an adventure that should be Scott Lang (Paul Rudd) and Hope van Dyne's (Evangeline Lilly) biggest challenge yet, and Janet van Dyne (Michelle Pfeiffer) has apparently been keeping a big secret. Let's check out the social media reactions to the film's premiere screening.
Self-proclaimed Marvel nerd Nora Dominick of BuzzFeed praises the casting of Jonathan Majors, saying he brings complexity to the role of Kang the Conqueror:
Jonathan Majors is a force in #AntManAndTheWaspQuantumania. He's compelling, chilling, and already giving a top notch performance. I love the complexity he brings to Kang with literally a single look. MCU really won with this casting pic.twitter.com/4W8VCLGFBvFebruary 7, 2023
Film critic Fico Cangiano agrees that Jonathan Majors is a show-stealer once Kang makes his appearance, and he calls this movie the best of the Ant-Man trilogy:
#AntManAndTheWaspQuantumania is the best of the trilogy. Higher stakes, dangers & repercussions. Its also got one the best MCU villains in #Kang. As soon as #JonathanMayors comes in, its his show. Kang is a scary lean-mean multiverse big baddie. Also, 2 cool post credits scenes. pic.twitter.com/t1V8HP2dsOFebruary 7, 2023
However, Daniel Baptista of The Movie Podcast feels Ant-Man and the Wasp: Quantumania is missing some of the comedy we've come to expect from the MCU blockbusters, and while there are aspects that are "astonishing," Baptista calls the movie overambitious:
#AntManAndTheWaspQuantumania is a solid, yet overly ambitious start to the next phase of the MCU. Jonathan Majors is an absolute FORCE as #Kang and the NEW KING of the Multiverse. The final battle is ASTONISHING, but I really missed the comedic charm throughout. #AntMan pic.twitter.com/NRj3fzjCKaFebruary 7, 2023
Critic Simon Thompson also thinks the movie never quite finds its footing, positing that the "messy spectacle" chooses style over substance:
#AntManAndTheWaspQuantumania kicks off Marvel's Phase Five with a vivid but messy spectacle. It never quite finds its footing and relies on style over substance, the quality never matching the confidence. Jonathan Majors' Kang is solid but the overall film is sadly just… okay. pic.twitter.com/LzKXgCER7vFebruary 7, 2023
A number of those who saw an early screening of the threequel are comparing it to Star Wars, including Kristian Harloff, who says it's an epic sci-fi story that won't work for all fans but it wraps nicely:
So #AntManAndTheWaspQuantumania goes hard in the paint as the big epic Sci Fi film. Blending Star Wars, Fifth Element, Dune + Strange World. I don't think its going to work for everyone but I really dug this tone. Its a bit chaotic towards the end but wraps up nicely. Kang rules.February 7, 2023
Writer Michael Lee says director Peyton Reed's work on The Mandalorian pays off in this Ant-Man film in terms of production and character design. He says the movie has a good balance of action, humor and heart:
#AntManAndTheWaspQuantumania is the most mature installment of the franchise. Driven by emotion, it opens Phase 5 with exciting new action set pieces and sets the stage for the rest of the Multiverse Saga. Equal balance heart, humor, and excitement! Majors is a standout as Kang! pic.twitter.com/cmNZo5u9WqFebruary 7, 2023
Rayyan of The Cine Geek agrees that there's a good balance of comedy while still keeping the family aspect at the forefront. The script is smart, though the writer says the CGI is a bit overused:
#AntManAndTheWaspQuantumania is a visual voyage. KANG steals every scene. The film is a course correction and expansion on what made the MCU special. The script is smartly written, using family as it's core, and balancing the comedy well. Massive implications for the greater MCU! pic.twitter.com/TUpwVaCvGBFebruary 7, 2023
Those who have seen Ant-Man and the Wasp: Quantumania also mention that there are two post-credit scenes to be on the lookout for. We'll be able to find out more about where this one will fall in the ranking of Marvel movies when reviews come out on February 14, so check back to CinemaBlend then! In the meantime, make sure you're caught up on everything you need to know about Marvel's Phase 5, and you can take a look at the other upcoming Marvel movies, as well as what else is set to hit theaters soon with our 2023 Movie Release Schedule.
Your Daily Blend of Entertainment News
Mom of two and hard-core '90s kid. Unprovoked, will quote Friends in any situation. Thrives on New Orleans Saints football, The West Wing and taco trucks.