10 Things We Learned About Firefly At Comic Con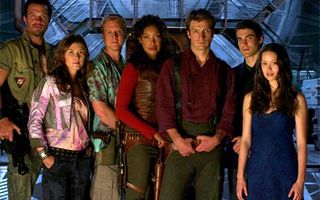 1. They Love You About As Much As You Love Them
In one of the most emotion moments I'd ever seen shared with some 5,000 people, Joss Whedon held back tears trying to come up with something to say when he was asked how he felt about fandom. As the camera pushed in and the director of the highest grossing movie of the year choked up, someone yelled "We Love You" and the fans slowly built a supportive cheer that grew into a standing ovation. Then the cast stood as well. And after a moment of group cheering, Joss spoke: "When you come out of a great movie, you feel like you're in that world. When you're telling a story, you're trying to connect to people in a particular way. It's about inviting them into a world. The way you've inhabited this world, this universe, you have become part of it. When I see you guys, I don't think the show is off the air. I think there's spaceships and horses — the story is alive."
2. There Will Be More Dark Horse Comics That Will Continue the Story Into The Future
Joss revealed that A Shepherd's Tale, the 3rd Volume of the Dark Horse Serenity line was one of their top selling books ever. So he started talking to his brother, Zak Whedon, about maybe filling in the Inara story, then it snowballed into ideas of where the story goes after Serenity. The ideas seem to excite the Whedons, therefore you too should be excited.
3. Joss Whedon is Beyond Vindication with Firefly
Whedon:"We always knew from the very beginning we were doing for the right reasons, in the right way, the right way … and had the best cast I ever worked with — and we also have Alan. Vindication came a long time ago. It goes to a place of transcendence that I cannot describe without becoming a girly-man."
4. How Firefly Would Have Ended If There Was No Serenity
It would have been a smaller thing, because Firefly had just a tiny budget, but he also reveled he probably wouldn't have killed anyone (Alan Tudyk was way into that) he would have explained the whole Blue Sun conspiracy (which got cut out of the movie), told Book's backstory and Inara's full story.
5. There will NOT be an Animated Firefly
They were asked at the panel and Joss joked he'd rather have a radio drama. Then they were asked at the press conference and Joss made a joke about Nathan Fillion's body odor. Not happening, animation fans.
6. You know who loves Firefly? The Military and Astronauts
Whedon: "The show has been very popular with the military, and also astronauts. This is an extraordinary thing for me. Obviously there's a war element, and people have suffered greatly because of it. But they are a platoon. Everything is them bonding in the trenches – that's the nature of the show. There's an isolate and comrade feel. In terms of space element, I hear there isn't a lot of stuff out there that inspires people to want to build rockets – literally. Or go into space. That same feeling of going into the black and becoming more of a person has hit them as well. There could not be a better tribute."
7. Joss Whedon Would Love a Firefly RPG
Whedon: "There was a lot of talk about a multiplayer thing and a couple companies were vying for it. And it fell apart but I'm not sure why. I always felt that Firefly absolutely lends itself to being a game. There'd be so many planets, agendas, etc besides shooting things. I think it's absolutely a perfect fit."
8. Alan Tudyk's Sister Is An Artist, Created Best Firefly Fan Art
When asked about their favorite piece of fan art, Alan Tudyk, Nathan Fillion and Joss Whedon all agreed that the one that has grown on them the most as a piece of art is a painting Alan's sister did for Joss of Whedon protecting a firefly in a jar from "Fox suits." Now, I really want to see that paining.
9. Jayne's Hat Was Something Adam Baldwin insisted on.
Apparently Jayne's famous hat was knit by someone in the Firefly offices and Adam Baldwin told Tim Minear he wanted to wear it for the whole episode. Tim didn't get it and Joss wasn't around, so it got written in and history was made. Man wears a hat like that ain't afraid of anything.
10. There will be a new Firefly TV Special
Fear not, those not at Con! The Science Channel is recording a 10th Anniversary Special:
Keep flying!
Your Daily Blend of Entertainment News
Your Daily Blend of Entertainment News
Thank you for signing up to CinemaBlend. You will receive a verification email shortly.
There was a problem. Please refresh the page and try again.