11 TV Shows In Danger Of Being Cancelled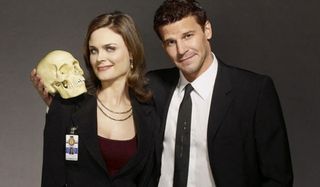 The TV landscape is constantly changing. However, while streaming services like Netflix and Amazon and subscription cable channels like HBO and Starz don't rely on Nielsen ratings to determine what programming moves forward and what gets the axe, traditional cable and network TV outlets still very much rely on ratings to nab advertising dollars. So, we've decided to take a look at what shows are already faltering in those ratings this fall, looking only at programs that very well could be cancelled by the end of the season.
It's true that some of this fall's shows have yet to premiere at this point, but despite this, we feel it's never too early to talk about the shows that are doing well over at the networks and cable stations, along with the show's that aren't doing so hot. And if the first few weeks of these shows are any indication, there are a few new programs and older programs that may see themselves get the axe over the next few months.
Minority Report, FOX
Fox's Minority Report is based on a famous movie, which theoretically should have given it a fanbase boost. In addition, it boasts a great cast, headed up by Stark Sands, Meagan Good and Wilmer Valderrama. Despite this, the show's numbers have been dismal. The drama was a flop during its premiere, only pulling in 3.1 million total viewers and a 1.1 rating. This week, that number slipped to a .7 rating and we don't see how it could rise from there.
Our Verdict: We wouldn't be shocked if this was the first cancellation of the season.
The Player, NBC
NBC launched an all-new drama lineup this fall, and while Heroes Reborn is doing decently and The Blacklist is still a ratings draw for NBC, the same can't be said of The Player, the high-octane drama starring Wesley Snipes and Phillip Winchester. Unfortunately, few people are watching the drama, as it pulled in barely a 1.0 rating during its first couple of tries at bat. Those numbers will slip more, and when that happens, NBC will be forced to cancel.
Our Verdict: This show might've worked in a different timeslot, but it's barely scraping by on Thursday nights.
Sleepy Hollow, FOX
Damn, Fox spent a lot of time and effort revamping Sleepy Hollow for a third season. So far, the direction has been good in terms of creativity and rebooting the storyline. However, Hollow's numbers have not been looking good, at all. Last season, the show premiered at a 2.0 rating and this season, the supernatural drama only earned a 1.0 rating during its premiere. That's even lower than the 1.4 rating the show nabbed in the Season 2 finale. Some fans just look to have given up.
Our Verdict: That Thursday timeslot is tough, but I'm not sure if even a different timeslot could fix these numbers.
CSI: Cyber, CBS
It's rare for a CBS show to have lower numbers, but that's exactly what Sunday nights look like on the network right now. The CSI: Cyber premiere boasted only 6.7 million total viewers, and most were not in the 18-49 demographic. Because of this, those numbers only equated to a 1.0 rating. In comparison, ABC's Quantico aired at the same time with nearly the same number of viewers and did a 1.9 ratings. So, the Cyber rating is really poor.
Our Verdict: It's probable the wrong CSI property was cancelled last spring.
Blood & Oil, ABC
Unlike a lot of other networks, ABC doesn't have any new shows that are clear disasters, which is quite the feat. However, the modestly rated Blood & Oil ended up falling from a 1.4 to a 1.2 rating in its second outing on the network. That makes it ABC's lowest-rated drama on Sunday night and means a lot of people are already wondering if the show's numbers will further erode in the coming weeks.
Our Verdict: If those ratings are able to even out, we could see it on the schedule next year. Or it could follow Revenge into the cancellation bin.
Scream Queens, FOX
Expectations for Scream Queens were high when Ryan Murphy's latest dramedy premiered. The first episode didn't reach such great heights as were expected, but it didn't do poorly, either. However, subsequent episodes of Scream Queens have shown a further erosion in the ratings and during Monday's episode, only 2.9 million total viewers tuned in. More people are watching John Stamos' Grandfathered at this point.
Our Verdict: Clearly Ryan Murphy has plenty of hits, but it absolutely looks like Scream Queens is not going to be one of them, despite the high-end cast.
The Good Wife, CBS
The Good Wife premiere did a 1.2 rating this fall. It did do a whopping 9.25 million total viewers, but to CBS that's actually small potatoes. In addition to having a lower 18-49 rating than most CBS programs, the show is now doing less viewers than Madam Secretary, which premiered to a 1.4 rating and 11.79 million total viewers on Sunday night.
Our Verdict: The Good Wife is a critical darling, but with key players gone and ratings so far down, this could be the year the show wraps up.(Also, let's not forget that Kalinda drama.)
Castle, ABC
It looks like Caskett fans are not digging this whole Beckett leaving to find herself storyline. The veteran ABC drama has seen poor ratings for its first several outings in Season 8. Ratings are the lowest they've ever been, but on the bright side, they don't seem to be getting any lower. Still, no one is calling a 1.2 rating "good."
Our Verdict: Castle fans have stuck with this show forever, and a good storyline could still turn this ship around.
Bones, Fox
Even the Bones staff thought the drama was getting cancelled last year. Now, here it is back for Season 11 and the show is at least doing better than Sleepy Hollow in the ratings. So, why is it on this list? The ratings aren't great, and David Boreanaz has flat-out said he won't be back.
Our Verdict: This one may get an ending from Fox instead of a cancellation, but there's a mighty good chance this is the last season for Bones.
Nashville, ABC
Nashville has a strong fanbase, but the drama's numbers have never been the best over at ABC. Now that the show is in its fourth season—a great number for syndication value—ABC might say goodbye to its musical-oriented program. On the bright side, the show did hop from a 1.1 rating to a healthy 1.8 after DVR ratings kicked in three days later, so maybe that healthy DVR 64% uptick will be enough to keep it around for another year.
Our Verdict: This show is obviously going to be around all season, but the future looks less rosy.
Hawaii Five-0, CBS
This show has been hanging on by a thread for several seasons now, and I'm literally shocked it's still in the schedule (this has less to do with quality than with the numbers the drama is bringing in). Problematically, Hawaii Five-0 just doesn't have a lot of younger viewers, which is how the 9.2 million viewers who tuned in could top Dateline's 5.6 million, but still tie the news show with a 1.1 rating. That is not good.
Our Verdict:If I had to bet, Hawaii Five-0 is reaching the end of its line this season.
This poll is no longer available.
Amazing Race & Top Chef superfan with a pinch of Disney fairy dust thrown in. Theme park junkie. If you've created a rom-com I've probably watched it.
Your Daily Blend of Entertainment News
Thank you for signing up to CinemaBlend. You will receive a verification email shortly.
There was a problem. Please refresh the page and try again.