10 TV Shows That Are Right On The Cancellation/ Renewal Bubble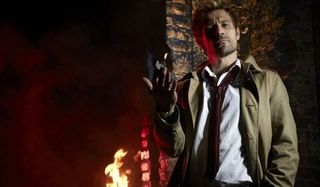 ABC upset a lot of fans yesterday when the network cancelled long-running soapy drama Revenge, but that won't be the only fan favorite and newbie series that is about to get the cancellation axe. The networks will make their final decisions over the next several weeks, but there are plenty of shows that are currently still right on the bubble, neither getting great nor horrible ratings during this year's runs. Here's our list of 10 shows that still might have a fighting chance.
Hawaii Five-0, CBS
On the air for five seasons now, Hawaii Five-0 hardly has laughable ratings. Sometimes the show still nabs over 10 million total viewers—and that's on Friday nights! So, why is it on the bubble? It doesn't do nearly as well in the 18-49 demographic as it does with older audiences; last week it only nabbed a 1.1 rating. Plus, it has made CBS potential cancellation lists in past years. Now could be the time CBS decides to try something new on Friday nights.
About A Boy, NBC
The NBC comedy About A Boy had its episode order shortened earlier this year. That, along with the shows not-so-impressive ratings have it primed for cancellation. Luckily for the comedy, it has maintained a slightly larger audience than newbie series Marry Me. Plus, believe it or not, it has been on the air longer than any other comedy currently airing on NBC. NBC has to keep some comedies on the air next year, theoretically. Whether or not NBC keeps About a Boy, the state of the comedy lineup over at the network is depressing.
The Following, Fox
Now in its third season, The Following (without getting into spoilers) has finally moved away from the Joe Carroll-Ryan Hardy relationship that dominated its first two years on the air. While there is a new villain in Mark Gray, the ratings are down for the series and it could be a good time to wrap up the drama. Still, it's on the bubble, because it's one of Fox's more well-known shows, because the ratings aren't dismal, and because Kevin Bacon.
Mysteries of Laura, NBC
Not a lot of people have been talking about Mysteries of Laura's cancellation or renewal possibilities. That's because the drama, which stars Debra Messing as a detective and mom trying to balance her work and home life, has landed itself right in the middle of the networks ratings. It's no Blacklist, but at least it's not A to Z, either. The procedural hasn't done well with critics and has only done middling numbers each week. It's by very definition a show that lands right on the bubble, and we'll have to see whether NBC tries to grow its audience next year or give a new show a shot.
CSI: Cyber, CBS
It's almost inevitable that CBS will cancel at least one of the two remaining CSI programs on the air. Earlier this year, we were gung ho that it would be CSI: Crime Scene Investigation, the elder of the two programs, which lost veteran actor George Eads this year. But, quite frankly, CSI: Cyber's numbers have not been all that impressive, either. The most recent episode of the drama only did a 1.2 rating on Wednesday, putting CSI: Cyber on the bubble, as well.
Constantine, NBC
At one point, Constantine was mentioned as cancelled by another outlet, but that was later debunked. Its ratings on Friday nights, while not horrible, were not particularly great, and NBC's shutdown of production on the series was not a good sign at all for the comic-based drama. However, in the time since, there has been a ton of hype surrounding Constantine. The already-unpopular network will get a lot of flack from the internet if or when Constantine gets cancelled. Constantine is just barely balancing on the cancellation bubble, but at least it's not actually cancelled yet.
Agent Carter, ABC
Before you comment that Agent Carter is a limited series, a limited series simply means less than a full season order was produced, in this case eight episodes. And we also know that Agent Carter's showrunners are hoping the drama returns for a second season. The show had an avid fanbase while it was on and did decently in the ratings. This season, Agent Carter is the bubble show of all bubble shows. ABC could end its run with that one tight 8-episode season or the network could sign on to air the show during Agents of S.H.I.E.L.D.'s hiatus again next year. The potential detractor from a second season is that ABC already has another S.H.I.E.L.D. spinoff in the works.
Forever, ABC
There's no question that ABC's Forever timeslot is the pits. Nobody is up and watching television on Tuesday nights at 10 p.m. ET. With that in mind, Forever's ratings haven't been half-bad, and the show has done extremely well with the DVR crowd. I'm convinced if ABC aired Forever opposite Castle that block would dominate. Alas, I'm not in charge of these decisions and ABC has a lot of shows the network will likely choose to renew ahead of Forever, including Black-ish, Scandal, Agents Of S.H.I.E.L.D., oh and Castle. If it gets renewed, it'll be because it just ekes through.
Stalker, CBS
Most of CBS' freshman dramas have already been renewed, which doesn't bode well for Stalker. CBS even gave the show a nine week break and then shifted it to a new night. The good news? All of that movement helped the series to improve in the 18-49 demographic. This week, the show nabbed a 1.4 rating, which is a lot better than some of CBS' older-gearing shows get (here's looking at you, Hawaii Five-0).
Cristela, ABC
ABC hasn't renewed a lot of its programs, yet, but the networks comedies are faring pretty well, with Black-ish, Modern Family, The Goldbergs, Last Man Standing and more expecting renewals. While Last Man Standing has found a solid niche on Friday nights, after an auspicious start, Cristela has not been doing nearly as well in recent weeks, although the numbers aren't horrible or anything. A true bubble comedy, Cristela could go either way once ABC begins making long-term decisions.
This poll is no longer available.
Your Daily Blend of Entertainment News
Reality TV fan with a pinch of Disney fairy dust thrown in. Theme park junkie. If you've created a rom-com I've probably watched it.
Your Daily Blend of Entertainment News
Thank you for signing up to CinemaBlend. You will receive a verification email shortly.
There was a problem. Please refresh the page and try again.