12 Great Shows Not Nearly Enough People Are Watching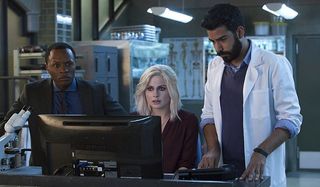 Between cable and network channels, there's simply too much TV for any one person to enjoy. Sadly, this has led to some fantastic shows not accumulating as significant an audience as they deserve. Of course, not all channels are created equal, so we can't expect a series on FX or Syfy to garner the same numbers as a series on ABC or CBS, but some shows are worthy of much more attention than they get. So, in honor of the unsung greats of television, we've put together a list of 12 shows that not nearly enough people are watching. Check it out!
Crazy Ex-Girlfriend
Crazy Ex Girlfriend is a fun show on The CW that introduces audiences to the delightful Rachel Bloom as a woman named Rebecca who relocates herself from New York to California, bringing with her a plethora of catchy tunes and neuroses. The series has been critically acclaimed and even won Bloom a Golden Globe for Best Actress in a Musical or Comedy, but the ratings have been relatively abysmal even by CW standards. The network did show some faith in the series when it ordered extra episodes, but the ratings are still disappointingly low.
Most Recent Episode Ratings: 0.88 million viewers
Agent Carter
ABC's Agent Carter has a recipe for success. Revolving around one of the most kickass female characters from the Marvel Cinematic Universe in Peggy Carter and filling in the slot usually occupied by Marvel's Agents of S.H.I.E.L.D., the show seemed destined to do well. Unfortunately, Agent Carter got off to a rather unremarkable ratings start back in January of 2015, and the second season hasn't done any better. Even those who have never seen a Marvel movie could enjoy Hayley Atwell in the role, and it's a shame that more people aren't doing so.
Most Recent Episode Ratings: 2.90 million viewers
Galavant
Galavant is another show that really should have worked for ABC. Occupying the slot usually held by the fairy tale-inspired Once Upon a Time, the musical extravaganza that premiered in January of 2015 basically combined classic Disney with parody to become lots of fun from the start. Sadly, not too many people have tuned in for the fun, and it was something of a shock that the series was renewed for a second season in 2016.
Most Recent Episode Ratings: 2.10 million viewers
iZombie
Another show whose relatively low numbers aren't totally unacceptable thanks to its home on The CW, iZombie follows the exploits of medical examiner and zombie Liv Moore as she uses her unique abilities to solve crimes. The show has been a absurdly wonderful little series, and it was no real surprise that iZombie was ordered for a second season or had its episode order bumped up for 2016, but this is one show that really deserves better exposure than what it gets on the diminutive CW.
Most Recent Episode Rating: 1.17 million viewers
Man Seeking Woman
One of the most bizarre series to premiere in 2015 was definitely Man Seeking Woman on FXX. Considering that early promotion featured star Jay Baruchel trying to romance a troll, it's not hard to see how some potential viewers might have judged the show before it hit the airwaves. As it turns out, however, Man Seeking Woman is a fabulously creative comedy that subverts the standards for most sitcoms and romantic fiction, and brings the laughs in a whole new way. Airing on FXX means that it gets even fewer ratings than CW series, but hopefully its audience will continue to grow.
Most Recent Episode Ratings: 0.204 million viewers
The Expanse
The Expanse is a Syfy series that deserves a watch just for the size and scale that it brings to small screen cable, and not just because of the space sex. The show is actually based on a series of critically acclaimed novels that is set to span nine installments, so it's super important that enough folks tune in to guarantee repeated renewals from Syfy. Luckily, the show was renewed for Season 2 before the first concluded, so The Expanse has a promising future ahead of it at this point. If only more people knew about it.
Most Recent Episode Ratings: 0.721 million viewers
Blunt Talk
Blunt Talk stars Patrick Stewart, which really should be motivation enough for the masses to check out his Starz series. Stewart plays Walter Blunt, an educated man in the television biz with a proclivity for doing just about any drug within his reach. Patrick Stewart brings an unlikely combination of comedic chops and natural gravitas that makes the show work, and it's no real shocker that Starz ordered two seasons straight off the bat. The first has already aired, and hopefully even more people will catch the second.
Most Recent Episode Ratings: 0.161 million viewers
The Last Kingdom
The Last Kingdom is a BBC America series set in the ninth century that follows the conflicts facing hero Uhtred as he is torn between the Saxons of his birth and the Vikings who raised him. Basically, it's pretty understandable why The Last Kingdom hasn't taken the mainstream by storm. Still, those who do give the show a try will discover that there's action and adventure aplenty amidst the ninth century political divisions. The series did well enough in Season 1 in 2015 that it will air a second in 2016.
Most Recent Episode Ratings: 0.215 million viewers
Mr. Robot
There are plenty of cable series that receive award nods, but they usually go to channels like HBO and Showtime. Mr. Robot has managed to put USA on the critical map unlike any show before, and for good reason. It's a tightly-written drama with a killer cast and compelling lead character. Mr. Robot even took top prize in two of the three Golden Globe categories in which it was nominated, including Best TV Series, Drama. It was renewed for Season 2 before the first even premiered, so there will still be chances to hop on board.
Most Recent Episode Ratings: 1.21 million viewers
The Grinder
Fox has done well enough with sitcoms in recent years, but the network has found a true gem with The Grinder. Starring Rob Lowe in an over-the-top role that Lowe was born to play, and Fred Savage as the straight man, The Grinder is a perfect blend of hilarity and ridiculousness that really works. Lowe and Savage play off of one another wonderfully, and they definitely deserve to have plenty of viewers. The show did receive a full-season order for twenty-two episodes, so there's still time for an audience to accumulate.
Most Recent Episode Ratings: 2.00 million viewers
Humans
AMC has been much more known for its zombies in recent years than anything else, but this past summer's Humans introduced anthropomorphic automatons as the network's newest non-human figures to drive a series. It aired on Sundays in the period between installments of the Walking Dead franchise, and it brought the network more firmly into the science fiction sphere than ever before. As much a study of the implications of using artificial intelligence as a straightforward sci-fi adventure, Humans is definitely worth a watch by more than who saw Season 1. Fortunately, it will be back for a second.
Most Recent Episode Ratings: 1.078 million viewers
Sex&Drugs&Rock&Roll
FX has done moderately well with its original series, and actor/comedian Denis Leary was a major face of the network's originals for years as the lead in Rescue Me. He returned to FX as creator and star of Sex&Drugs&Rock&Roll, playing the role of a has-been musician who tries to make his way back into the spotlight by bringing his old band back together. While the premise isn't anything too groundbreaking, Leary can always be counted upon to deliver a solid performance that's entertaining to watch. Is Sex&Drugs&Rock&Roll super annoying to type? Yes. But it's also definitely a show to try with your eyes instead of your fingertips.
Most Recent Episode Ratings: 0.487 million viewers
This poll is no longer available.
Resident of One Chicago, Bachelor Nation, and Cleveland. Has opinions about crossovers, Star Wars, and superheroes. Will not time travel.
Your Daily Blend of Entertainment News
Thank you for signing up to CinemaBlend. You will receive a verification email shortly.
There was a problem. Please refresh the page and try again.