Man Seeking Woman Review: Hilarious Sketch Show Disguised As A Sitcom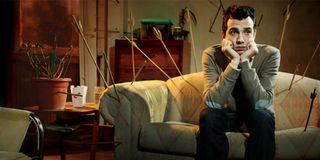 Of all of the new series premiering this spring, Man Seeking Woman was high on my most anticipated list and it ended up being love at first sight. Based on Simon Rich's collection of shorts called "The Last Girlfriend on Earth: And Other Love Stories," the FXX comedy starring This is the End's Jay Baruchel is a much needed fresh take on the stale sitcom format. While small-screen comedies tend to take some time to 'find themselves,' MSW confidently lays its unique cards on the table right away, resulting in one of the most assured first episodes I've encountered in some time. And then it backs it up with two more fantastic fantastical installments.
As you might have guessed from the title, Man Seeking Woman follows Baruchel's titular 'Man,' Josh Greenberg, as he tries to catch another fish in the sea after his six-year relationship with Maya Erskine's Maggie comes to an end. The pilot, "Lizards," opens with the latter dumping the former before flashing-forward a few months to when Josh is ready to get back in the game. Helping him in his romantic pursuits are his douche-y yet ladies man best friend, Mike (Eric André), and his older, much more put-together sister, Liz (Britt Lower). Having set that up, Man Seeking Woman is anything but your traditional rom-(sit)com.
What's the best way to describe the left-turn the FXX series takes from most half-hours? Well, when Josh leaves the awkward break-up on Maggie's porch, he's immediately met with his own private rain-cloud. Then Simon Rich pushes the familiar trope further, having his protagonist not get pelted by just rain but hail, along with a couple pigeons killed by said hail. You can really see the creator's Saturday Night Live training shining through as Man Seeking Woman is really a sketch show in the guise of a situation comedy, similar to the way Scott Aukerman's Comedy Bang! Bang! uses the talk-show format as a platform for its comedic insanity.
In case I'm not getting the point across, let me tell you a little more about the first few episodes. In the pilot, Josh's sister Liz sets him up with a troll named Gorbachenka and they go out for a romantic dinner. That's right, it's not a cutaway gag or flight of fancy, the central storyline of "Lizards" is a dinner date with a lady-troll. And it's the most straight-forward and realistic episode of the three I've seen. Yet, somehow it all works. Man Seeking Woman is not just inventive and surreal but absolutely hilarious.
A lot of credit goes to series director Jonathan Krisel (the filmmaker for every episode of Portlandia) for being able to effortlessly bounce between genres and tones in telling the tangent-filled and sketch-inspired stories. His work reminds me of Peter Atencio's similar chameleon-like touch behind the camera on Key & Peele--except Krisel has to also keep an actual narrative afloat amongst the madness. Each episode still tells a (mostly) self-contained story while Josh's romantic entanglements (can) span multiple installments. Not an easy feat.
Rating:
Man Seeking Woman premieres Wednesday, January 14 at 10:30 p.m. ET on FXX. Created by Simon Rich, the comedy stars Jay Baruchel, Eric André, Maya Erskine and Britt Lower as well as guest stars like Vanessa Bayer, Jon Daly and Marc Evan Jackson.
Your Daily Blend of Entertainment News
Thank you for signing up to CinemaBlend. You will receive a verification email shortly.
There was a problem. Please refresh the page and try again.