Two Arrested Development Actors Are Reuniting For Drunk History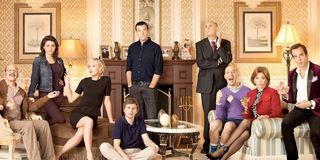 For a long time, Arrested Development was one of those great comedies that got cancelled too early. Then, a few seasons ago, Netflix brought the cult favorite back from the dead, putting together 15 brand new episodes for the streaming platform. Ideas for a fifth season on the streaming service have been bandied about in the time since, but haven't come together... yet. Luckily, the Arrested Development cast seems pretty fond of one another and has even found ways to reunite from time to time. The latest Arrested Development reunion will happen on Drunk History, and will feature both Tony Hale and Alia Shawkat. You can check out look behind-the-scenes of the episode, below.
Tony Hale posted an image of himself and his Arrested Development co-star with a pretty misleading caption, so don't let the Instagram fool you. As much as I wish there was going to be an episode of Arrested Development devoted to Colonial costumes and hairdos, Drunk History is a really fun program on Comedy Central and I'm pleased as punch that the Veep star and the Pee-wee's Big Holiday actress are coming together for something as entertaining as that series.
If you haven't caught an episode of Drunk History, it's essentially exactly what it looks like. The Comedy Central series brings together comedians who get drunk and recount United States history in a drunk fashion. It's not the dry storytelling you get in your high school history class, either. The series is based on some popular Funny or Die skits.
As for Arrested Development, creator Mitch Hurwitz has been talking about a potential Season 5 for quite some time. The last set of episodes aired all the way back in 2013, and the cast and creative team have been talking about doing a new set of episodes ever since. As long as a year ago, Mitch Hurwitz was saying we would probably get new episodes this year, but as we are well into the summer at this point, it's looking unlikely. Still the show creator has been adamant that we will get new episodes at some point and as recently as a few weeks ago, Hurwitz said that the studio, Netflix and all of the cast are willing and ready to do it.
The big issue keeping Arrested Development Season 5 from happening is scheduling. As noted prior in this article, Tony Hale is currently on Veep and Alia Shawkat has a slew of other projects in the works. Other leads, including Jason Bateman, Portia de Rossi and Jeffrey Tambor are equally busy. The last time a season came together, a lot of the cast had to shoot separately to get all of the scheduling to work.
For now, we can hope that the Arrested Development cast will keep reuniting for fun projects likeDrunk History. New episodes of the Comedy Central series will hit the schedule this coming September. For now, check out what the networks have coming up with our TV premiere schedule.
Amazing Race & Top Chef superfan with a pinch of Disney fairy dust thrown in. Theme park junkie. If you've created a rom-com I've probably watched it.
Your Daily Blend of Entertainment News
Thank you for signing up to CinemaBlend. You will receive a verification email shortly.
There was a problem. Please refresh the page and try again.