Watch Jon Snow And Ramsay Bolton Face Off In Awesome New Game Of Thrones Footage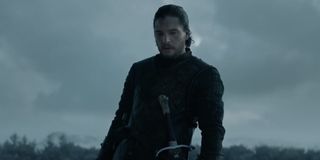 Just a few days ago, HBO confirmed that Episode 9 would be the one the series has been leading toward since it returned to the schedule eight weeks ago. Ramsay Bolton and Jon Snow will be facing off in an epic battle that should feature heroics and fallen soldiers and plenty more in between. This week, Game of Thrones released the first trailer for the upcoming episode and not only do we get to see Ramsay and Jon square off, we also get into Snow's mindset just before the battle commences.
"Battle of the Bastards" has been coming for a long time. Last season, Stannis attempted to take on Ramsay Bolton and failed, allowing that jerk to continue to wreak havoc through all of Season 6. The former bastard even killed his father, his father's new wife and their baby earlier this season. He's pretty sadistic and he's needed to be stopped. Ramsay has held Winterfell for some time and has held Sansa and Jon's brother Rickon hostage for a good majority of the season. They've planned and plotted to get their brother back, but also to take back the North, and clearly Sansa is more worried about what is going to happen than Jon is.
Then again, Sansa hasn't died already. Jon Snow has, and he even notes in the preview for next week's episode that if he falters again, he does not want to be brought back. Having died, there is no fear of death left inside of him, but that doesn't mean he should be underestimating Ramsay Bolton. At one point, Jon goes on one of those heroic rants about all of the things he has seen on the other side of The Wall. Of course, he was talking about the Night's King and the White Walkers, who have shown no remorse when killing humans. But Ramsay's a different kind of sick, sadistic bastard. He has always relished in violence more than anything else and Sansa has seen this cruel streak in full force.
Obviously, this battle will in some ways be a little like chess, with Ramsay and Jon Snow moving the people and weapons they have into various positions and formations. There is a little of this in the trailer for "Battle of the Bastards," as well. Miguel Sapochnik directed the episode and has a bit of creative flair for scenes with giants crushing through humans and arrows alighting into the air. It's all very theatrical, and may be the biggest episode of Game of Thrones to date.
We do know that it is a big enough episode that the showrunners and creative team have been hinting toward it all season, calling it "the biggest" sequence the show has ever produced. This footage seems to indicate they aren't that far off.
You can find out for yourself when "Battle of the Bastards" airs on Sunday night at 9 p.m. ET, only on HBO. In addition, you can check out what we know about the upcoming episodes.
Amazing Race & Top Chef superfan with a pinch of Disney fairy dust thrown in. If you've created a rom-com I've probably watched it.
Your Daily Blend of Entertainment News
Thank you for signing up to CinemaBlend. You will receive a verification email shortly.
There was a problem. Please refresh the page and try again.