One Key Way Iron Fist Will Be Different From The Other Marvel Netflix Shows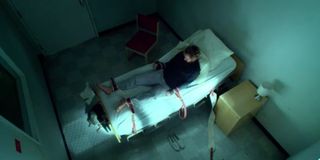 Ever since the premiere of Daredevil in April of 2015, Marvel has been building an empire of comic series on Netflix. Daredevil and Jessica Jones have already secured themselves as must-see streaming TV, and the upcoming Luke Cage looks like it could be just as thrilling. The fourth hero to get his own series will be Iron Fist, AKA Danny Rand. Luckily, Marvel is taking steps to guarantee that Iron Fist won't be just another Netflix superhero series. Marvel's Chief Creative Officer Joe Quesada has revealed a key way that Iron Fist will stand on its own. Here's what he had to say:
Details about Iron Fist have been mostly hard to come by, so Joe Quesada's tease to IGN of multiple villains for Season 1 is definitely reason to get excited. The first seasons of Daredevil and Jessica Jones featured a handful of minor villains, but the big crimes could almost all be traced back to a singular big bad. Luke Cage is looking like it will feature one primary villain as well. Iron Fist could go in a completely different direction than its three predecessors with more than one major bad guy.
Given that the origin story of Danny Rand as Iron Fist is so much more mystical than what we got for Daredevil, Jessica Jones, and Luke Cage, the first season may have to feature a handful of villains in order to get the series off the ground. The show will undoubtedly need to spend a fair amount of time establishing how Danny Rand got his powers, especially if his origin story is the same as the one from the comics. We had to suspend our belief a bit to buy into Daredevil and Jessica Jones' stories of how they got their abilities; Danny Rand battling a dragon to get his powers is a whole other story that might require more set-up to work on the small screen. More villains could allow a greater focus on Danny as Iron Fist to kick off his show.
The Defenders series that will unite Iron Fist with the other heroes of Marvel's Netflix universe may feature a villain who is distinctly mystical, so we almost certainly will see Danny go up against a big bad shortly after his own series debuts. Iron Fist is set to become available on Netflix early in 2017, and The Defenders should be released later in 2017. The Defenders will premiere before Iron Fist could possibly get a Season 2; it's possible that the team-up series will feel as much like a continuation of Danny Rand's story as it does a unification of the four heroes.
Stay tuned to CinemaBlend for the latest news on the Marvel Netflix universe that will soon include Iron Fist, and take a look at our fall TV premiere schedule to see what you'll be able to watch on the small screen.
Your Daily Blend of Entertainment News
Thank you for signing up to CinemaBlend. You will receive a verification email shortly.
There was a problem. Please refresh the page and try again.