Watch The Dude Who Got Shot On America's Got Talent Try The Trick Again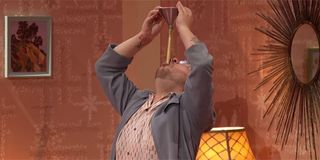 America's Got Talent has featured some incredible competitors during Season 11 from a wide range of disciplines, including but not limited to traditional circus acts, singers, magicians, danger acts and comedians. Last week, one of those danger acts was eliminated from a show after a trick arrow shot went awry, resulting in a contestant getting shot in the neck. As contestants Ryan Stock and AmberLynn are themselves admitting, it was a "stunt gone wrong." However, they later recreated the shot in their backyards, thus redeeming themselves. You can check out the dangerous-looking attempt, below.
If you missed the original trick when it aired during the live shows portion of the latest America's Got Talent season, it featured daredevil Ryan Stock swallowing a long funnel with a target attached to the portion that was outside his mouth. His partner AmberLynn then grabbed a crossbow and climbed some steps, shooting a crossbow at her partner. During the live show, she ended up shooting her partner in the neck rather than hitting the target that she attempted. It was really quite scary, especially when Ryan choked up the target directly after getting hit in the neck.
The couple later said that the arrow missed its target thanks to equipment malfunction rather than human error on AmberLynn's part, but by then the damage was done. America was also horrified about the nature of the mishap and elected Ryan Stock and AmberLynn to go home, where they immediately picked up where they left off, attempting the dreaded arrow challenge once more. While it obviously didn't work out on the big America's Got Talent stage, it did work out at home. If you'd like to get the basic idea of what the dangerous act should have looked like when it was attempted on NBC, we have you covered.
Unfortunately for the contestants, it is too little, too late to keep going on the reality competition series. Still, it's always good to get the opportunity to redeem yourself, and that's exactly what Ryan and his partner were able to do, here. Here's to plenty more danger as they continue touring.
And if you want to see some, admittedly, less dangerous acts, America's Got Talent is expected to return to NBC's schedule after the Olympics finish airing.
Reality TV fan with a pinch of Disney fairy dust thrown in. Theme park junkie. If you've created a rom-com I've probably watched it.
Your Daily Blend of Entertainment News
Thank you for signing up to CinemaBlend. You will receive a verification email shortly.
There was a problem. Please refresh the page and try again.