Watch An Olympic Gymnast's Horrific Fall On Her Neck During Floor Exercises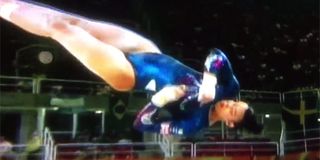 It's not uncommon to see a few Olympians get injured during the run of the show on the air. However, sometimes these falls, tumbles, and other injuries are more horrific than others, as happened during last night's big broadcast. The female gymnasts took the floor in the hopes of qualifying for specific individual events, as well as the all-around. One of those gymnasts, Great Britain's Ellie Downie, was working her way through her floor routine when she miscalculated a tumbling pass and landed on her neck. It was truly horrifying on the small screen, and you can check it out, below.
The 2016 Olympics has made headlines for not airing events live and even thanks to the Zika virus, but it looks like the gymnastics output this year might just nab more headlines than them all. A French gymnast already broke his leg in Rio, and Ellie Downie could have been horribly injured after falling squarely on her neck. The 17-year-old gymnast miraculously even got up after she landed poorly and even attempted to start the next component of her floor exercise. However, soon after it looked like she realized that what had happened may have resulted in a terrible injury and she elected to stop and seek medical help.
The Rio Olympics competitor later stated that she crunched her neck and realized she should probably stop. She was even wheeled out of the competition in a wheelchair, as noted by the Mirror.
Miraculously, she didn't stop competing after the big fall. Although she had finished the balance beam and the uneven bars before her floor routine, she still had the vault left. After leaving the competition floor to seek medical help, she actually came back and was allowed to finish her routine on the vault. I'm a little shocked she was even able to move well enough to complete the vault event after that terrifying fall, but kudos to her for getting out there and getting it done. I mean, seriously getting it done. Not only did she do one vault, but she actually told her coach that she wanted to do two so she still had the chance to qualify. This girl probably shouldn't have even been on her feet and she completed two insane vaults. What a beast.
Women in gymnastics can be tough cookies. Tune in more to NBC over the next few weeks to check out the crazy Olympics moments like this one. And be sure to see what TV is coming up after the Olympics with our fall premiere schedule.
Reality TV fan with a pinch of Disney fairy dust thrown in. Theme park junkie. If you've created a rom-com I've probably watched it.
Your Daily Blend of Entertainment News
Thank you for signing up to CinemaBlend. You will receive a verification email shortly.
There was a problem. Please refresh the page and try again.