Check Out What Flashpoint Will Look Like In These All-New Season 3 Flash Photos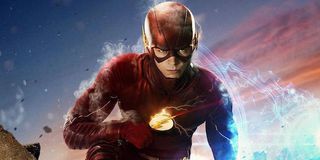 Fall is almost here. While this means that many of you have to go back to school (or send the kids back) it also means one other very important thing: the Arrow-verse will soon return to The CW. Every Arrow-verse series promises something awesome this year, but arguably none has us more excited than the imminent adaptation of Flashpoint on The Flash. Have you been dying for a good look at The Flash's season premiere? You're in luck; we finally have received a good look at the first episode of the season (appropriately titled "Flashpoint") and it's something you won't want to miss. Check out the photos below.
Right off the bat we can see that The CW isn't messing around with The Flash's season premiere. The first episode of Season 3 will waste no time getting Barry Allen (Grant Gustin) back into action as The Flash, and will even see him stand shoulder to shoulder with his new sidekick, Kid Flash (Keiynan Lonsdale), to face off against an unseen threat. True to the nature of its hero, The Flash will come out of the gate running in Season 3.
However, as much as we love the action and superhero drama on The Flash, we also want to know about Barry's relationship with Iris West (Candice Patton), and how that romance has changed with effects of Flashpoint.
The above photo showcases Barry and Iris standing next to a cell while holding hands. Although they still clearly have some sort of chemistry in this altered timeline, there's something not quite right about their mutual demeanor. A space has been created between them that Barry needs to fix. We already know that Barry and Iris won't have the sort of romantic connection that blossomed during the Season 2 finale, but Barry's trip to Earth-2 also proved one thing: they're meant to be together.
This photo also raises another question. Who does that cell belong to?
Here we get a chance to see the prisoner occupying Barry's homemade cell, and he's pretty familiar to fans of the show. After Barry saved his mother in the Season 2 finale, he took down Reverse-Flash (Matt Letscher) and apparently imprisoned his arch-nemesis in a jail similar to the one used by Zoom (Teddy Sears) last season. It's an odd departure from the source material, as Barry Allen never actually captured Eobard Thawne in the original Flashpoint narrative, but it's one we're excited to learn more about. It's very Hannibal Lecter-esque, and we love that.
Stay tuned for any and all relevant details related to all of your favorite Arrow-verse series. The Flash will debut its third season on Tuesday, October 4 at 8 p.m. EST on The CW. Make sure to check out our fall premiere schedule for more information concerning all of the most highly anticipated fall debuts, and mark your calendars accordingly!
Check out the next page to get an even better look at the upcoming first episode of The Flash's third season.
Here's another look at Matt Letscher as Eobard Thawne a.k.a Reverse-Flash in his Flashpoint cell. It's a closer look than the previous image, and one that seems to show him with a calm, cool, and generally collected demeanor. It's almost as if he actually wanted Barry to capture him...
It's abundantly clear that Barry already knows something's not quite right with the world he's living in. Although he should feel happy that he finally brought down his arch nemesis, he looks incredibly pensive and worried about the ripple effect that this will have on the Earth-1 timeline.
Given everything we already know about Flashpoint, it shouldn't necessarily be a surprise to see Barry Allen's parents happily married and living together in Central City. By preventing Nora Allen's murder, Barry's father never went to prison, which in turn means that Barry never went to live with the Wests family. It looks like Barry will get the happy family life that he always wanted, but -- like all things in Barry's life -- it will undoubtedly come with a cost.
Here's another quick glimpse at The Flash and Kid Flash working side by side. We don't get a good look at these two in action, but it's clear that Barry has taken to his role as mentor for the young speedster. It's unclear if he's scolding Kid Flash, lecturing him, or simply coming up with a plan; regardless, it seems that Barry will take on a much more leadership-oriented role this season compared to what we've previously seen. Much like the relationship between Oliver Queen (Stephen Amell) and Roy Harper (Colton Haynes), Barry will finally have to take someone under his wing and show him the proper way to use his abilities.
Catch The Flash when it returns to the schedule on Tuesday, October 4 at 8 p.m. ET.
Originally from Connecticut, Conner grew up in San Diego and graduated from Chapman University in 2014. He now lives in Los Angeles working in and around the entertainment industry and can mostly be found binging horror movies and chugging coffee.
Your Daily Blend of Entertainment News
Thank you for signing up to CinemaBlend. You will receive a verification email shortly.
There was a problem. Please refresh the page and try again.