Hodor's Real Life Mom Has The Hodor Doorstop And The Picture Is Wonderful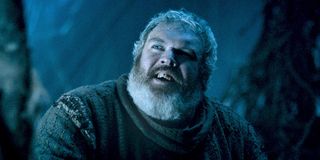 Obviously there are some huge spoilers about Game of Thrones in this article. If you haven't caught the Season 6 episodes at this point, get on that!
One of the most tragic moments in Game of Thrones occurred fairly early on in Season 6 when we witnessed the sacrifice Hodor made to save Bran and Meera. The episode was poignantly shot and emotional and much of it was due to Kristian Nairn's convincing portrayal of Hodor's death. However, months later, Nairn's mother has turned the whole thing into a pretty amusing tribute, and even has one of the highly coveted "Hodor" doorstops in her home. You can see Nairn catching his mum in the act, below.
Because the name Hodor came from the time when the young man had a series of seizures and kept hollering "hold the door" until it became a muffled, distorted version of the phrase, a lot of Game of Thrones fans have figured out a way to turn Hodor into a doorstop. The memorabilia has been around for months and has been pretty amusing, but you wouldn't expect Kristian Nairn's mom to find it so funny---especially since her kid is out of a job on the popular HBO series. Still, this picture is wonderful in nearly every way. Nairn's mom showed a spirited sense of humor when she bought her own doorstop. Plus, Nairn clearly has a teasy relationship with his mother, as the comment from Nairn on this Instagram post shows.
Hodor fans everywhere have been coming up with ways to pay tribute to the character's history, as revealed on Game of Thrones. A lot of regular doorstops now have the word Hodor written on them, and even more have a printed picture of Hodor's face on them. Even some elevators have gotten the "hold the door" treatment. However, at least Kristian Nairn should rest well knowing his mum actually paid for a fancy blue doorstop that features the name of the character that made her son pretty famous.
If you didn't catch the specific Season 6 episode of Game of Thrones that has been repeatedly mentioned in the article, Bran was doing his training with the Three-Eyed Raven when things went awry. The White Walkers found them, and in order to escape, Bran decided to warg into Hodor while he was in the middle of a vision at Winterfell. Unfortunately, this meant that the younger version of Hodor seized, leading the character to only say "hold the door" for years leading up to the present. Back in the cave, Hodor did "hold the door" so that Bran and Meera could escape. He was ultimately taken over by the White Walkers. His death and the problems he had his whole life were all Bran's fault.
We'll be heading into Season 7 down quite a few characters in the Game of Thrones universe. As we start heading into the endgame, I'm going to go out on a limb and say we should expect plenty of more characters to eventually be killed off. To find out exactly what we know about the upcoming episodes, head here. In addition, you can find out what is heading to HBO before the big GOT return with our fall TV premiere schedule.
Amazing Race & Top Chef superfan with a pinch of Disney fairy dust thrown in. If you've created a rom-com I've probably watched it.
Your Daily Blend of Entertainment News
Thank you for signing up to CinemaBlend. You will receive a verification email shortly.
There was a problem. Please refresh the page and try again.