The Sunday Night Lineup On ABC Is A Ratings Mess Right Now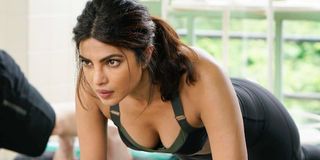 With one exception, the Sunday night lineup on ABC is a ratings mess. A day ago, I wouldn't have even said one exception, but ABC's fantasy drama Once Upon A Time has shown a remarkable ability to hang on to audiences and ticked up this week after a few weeks of falls in the ratings. As for the rest of ABC's Sunday night lineup, things aren't looking so great. In fact, you might call dramas Secrets and Lies and Quantico disasters.
Sunday night is a big night for television. On some networks it's a huge night, and we routinely see numbers above a 1.0 rating in the 18-49 demographic, which are the numbers advertisers often use to decide who to advertise with. In years past, ABC has had a pretty solid lineup on Sunday nights, but this year---and especially this week--the wheels have come off. Reports indicate that both Secrets and Lies and Quantico both pulled extremely low numbers on Sunday night. Secrets and Lies nabbed 2.8 million total viewers in the 9 p.m. slot, with Variety noting it did a .6 rating in the 18-49 demographic. Quantico was similarly low, bringing in 2.2 million total viewers and a .6 rating at 10 p.m.
Those numbers are, plainly put, not very good. They are also a far cry from the numbers both shows were doing during the first season they were on the air. Quantico's first season average a 1.2 rating, and its lowest rated episode during Season 1 still nabbed a .9 rating. Secrets and Lies did even better, averaging a 1.5 rating, which the lowest rated episode coming in at a 1.3. The problem the latter is having is that ABC kept Secrets and Lies off of the schedule for all of last season while it tried to find the right timeslot. The problem with Quantico is that it had a fascinating premise during its first season, but during Season 2 the plot has been even more convoluted, and Alex Parrish's new gig training with the CIA has meant a lot of the cast we liked from the first season has been sidelined in favor of new characters.
What's sort-of crazy to consider about these numbers is that two springs ago, ABC decided to cancel its soapy drama Revenge thanks to low ratings. During that season, Revenge averaged a 1.1 rating and saw plenty of episodes with higher numbers than that. Now, two of ABC's Sunday night shows are pulling ratings as low as .6---and we're not even into spring, yet, when show's traditionally see lower numbers. It should be noted that Once Upon A Time has also fallen in the ratings in the seasons since Revenge ended, which doesn't totally help the lead-in. But still, a .6 is the same sort of number that Supernatural is pulling in on a much smaller network and in its twelfth season.
Fox frequently does similar numbers on Sunday nights in terms of total viewers, but the mostly animated Sunday night lineup does a lot of younger viewers, despite having a program that's more than a quarter century old in its lineup (The Simpsons if you aren't keeping up). This translates into way higher ratings, including a 1.4 rating for the most recent Simpsons episode and means those programs are less likely to get cancelled than something on ABC. The only good news is that we know Quantico quietly pulls in big DVR ratings, making it a bigger hit than these initial numbers would suggest.
Considering the network has done well with a lot of new programs this fall, the numbers the network's Sunday night lineup are pulling in do not hold up in comparison to other nights. If you are liking Quantico or Secrets and Lies now would be a great time to start watching on Sunday nights. You can take a look at how some of the other shows are faring with our ratings round-up.
Reality TV fan with a pinch of Disney fairy dust thrown in. Theme park junkie. If you've created a rom-com I've probably watched it.
Your Daily Blend of Entertainment News
Thank you for signing up to CinemaBlend. You will receive a verification email shortly.
There was a problem. Please refresh the page and try again.