Did The Blacklist Finally Reveal The Red And Liz Connection We've All Been Waiting For?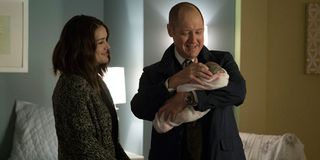 Spoilers if you haven't caught last night's episode of The Blacklist "Dr. Adrian Shaw: Conclusion." This is the fall finale for The Blacklist, and as expected, it was a doozy of an episode. Details, below.
The Blacklist has built an entire series around Raymond Reddington's unusual interest in Elizabeth Keen. Many people have wondered from the very beginning if Red might actually be Liz's father, especially considering the oddball stories we've learned about her childhood and past. However, the show has never confirmed it, and more recently the show had taken the tact that Alexander Kirk might actually be Liz's father. Last week, we learned that was written as a red herring, and Kirk and Keen don't share DNA. But who is Liz's father? One thing's for certain: Right now The Blacklist wants us to believe it's Red Reddington.
Red, of course, was already privy to the information that Kirk was not Liz's dad, and Elizabeth shared the knowledge with Cooper and in extension the rest of the gang early on this week. What followed were a slew of fire fights and epic chase scenes and a really complicated plot that eventually led to Red sitting on a bench, awaiting capture by Kirk. By the end of the episode, he had declared something that audiences have been waiting for the good part of four seasons to hear:
It seems pretty cut and dried, but considering that Red was drugged out, not to mention the fact he was being interrogated by Alexander Kirk, The Blacklist is making me mistrustful of Red's ultimate reveal, sort-of like how it made me mistrustful of Elizabeth Keen following her faked death last season. This is a show with a lot of twists and turns that is hardly ever cut and dried. When Red announced he was Elizabeth's father, it was an effective moment and one a lot of us have suspected has been in the cards since very early on. Regardless, it's still unclear if this reveal will ultimately prove correct, and if it does, what that will mean for the rest of the series.
To make matters even less clear, writer and producer Daniel Cerone had this to say about the reveal.
_The Blacklis_t will return for the latter half of Season 4 at midseason, kicking off on January 5 at 10 p.m. ET on NBC. To find out when your favorite shows are returning to the schedule, take a look at our winter TV premiere guide.
Your Daily Blend of Entertainment News
Reality TV fan with a pinch of Disney fairy dust thrown in. Theme park junkie. If you've created a rom-com I've probably watched it.