Why Season 7 Of The Walking Dead Has Been Rough So Far, According To Norman Reedus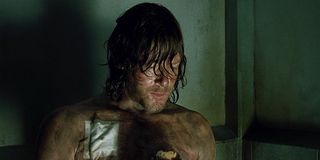 Warning: spoilers ahead for the Season 7 midseason finale of The Walking Dead.
The apocalypse on The Walking Dead has rarely been more intense than it's been in Season 7. The season kicked off with new bad guy Negan bashing two beloved characters' heads in, and the action didn't get any less stressful as the episodes passed. According to star Norman Reedus, the season hasn't been easy on the actors, and he had this to say about why Season 7 is different from past years for him:
Most of the key players of The Walking Dead have been separated ever since the end of the Season 7 premiere when Negan's actions caused Rick and Co. to split up in different ways. The Saviors kidnapped Daryl and stuck him with Dwight, Sasha had to take the very sick Maggie to the obstetrician at Hilltop, and what was left of the group returned to Alexandria to begin handing resources over to Negan. It makes sense for Norman Reedus to reveal on Talking Dead that the separation has been tough on him, all things considered. Daryl had been cut off from all of his pals for most of Season 7, and he's had to wear a dog food-stained sweatsuit for a lot of his time on screen.
Fortunately for Norman Reedus, the midseason finale finally reunited Daryl with almost all of his friends from Alexandria and Hilltop, and he even got a big hug from Rick. Considering how gross Daryl looked after his time living in squalor at the Sanctuary, that hug was practically a declaration of epic brotherly love. I know I wouldn't have been dying to embrace him in that state. All in all, the midseason finale was one of the most uplifting episodes of recent memory thanks to Daryl's escape, and that's despite the gruesome deaths of Spencer and Olivia. Sure, Alexandria was a mess, Eugene was kidnapped, and baby Judith was probably stuck with Father Gabriel as a babysitter, but the band was back together.
That said, we shouldn't count on a second half of Season 7 filled with episode after episode of happy victories for Rick's growing group. Daryl is currently a fugitive from the Sanctuary, and given how eager Negan seemed to be for Daryl to join his team, he may not be willing to just let it go that the redneck escaped, killing Fat Joseph in the process. It wasn't so long ago that Rick meekly asked that Negan return Daryl to them; I wouldn't be surprised if the Saviors head back to Alexandria ASAP after Negan discovers that Daryl escaped, but he might not be there at the time.
We'll have to wait a while until we see what happens next to Daryl in the zombie apocalypse. The Walking Dead will be on hiatus until Sunday, February 12 at 9 p.m. ET. Check out our midseason TV premiere schedule to see everything that will hit the airwaves in early 2017, and take a look at our list of the 2017 Golden Globe TV nominations. The Walking Dead didn't get any noms, but plenty of other great shows are in the running.
Resident of One Chicago, Bachelor Nation, and Cleveland. Has opinions about crossovers, Star Wars, and superheroes. Will not time travel.
Your Daily Blend of Entertainment News
Thank you for signing up to CinemaBlend. You will receive a verification email shortly.
There was a problem. Please refresh the page and try again.