Netflix Rumored To Be In Lawsuit Over Daredevil, Here's What Happened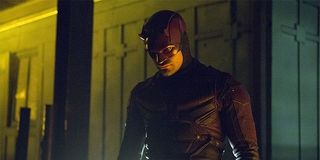 Marvel has definitely become an enviable giant in the entertainment world. Considering the vast success of its movies and shows, it would make sense for others to try and rip them off. After all, the Marvel Cinematic Universe is pretty much a pitch perfect business model. However, these days it's hard to really tell what's a rip-off and what isn't -- and false rumors don't make it any easier. With that in mind, it now seems that Netflix is NOT seeking legal action against a Bollywood film for allegedly ripping off the concept of Daredevil, despite numerous reports making such claims.
According to a report from The Indian Express, all of the news reports claiming that Netflix is seeking a lawsuit against Bollywood production Kaabil are apparently false. Initial rumors indicated that the streaming giant was seeking legal action for the Bollywood film's "glaring" similarities to Daredevil in terms of story, character, and visual style. However, Netflix recently addressed these reports and shot them down as little more than rumors. As of right now, nobody from either production has decided to lawyer up.
Check out a trailer for Kaabil below to get a better sense of how these claims arose in the first place:
There's no denying that there are some specific similarities between the properties that cannot be ignored. Both Kaabil and Daredevil center on a blind protagonist who suffers a personal tragedy, and both properties follow that protagonist as he seeks bloody revenge on a criminal element that has wronged him. The shows also use certain color schemes in similar ways. However, that's really where the similarities between these two properties end; there are no superpowers, no red suit, and no outlandish fight scenes in Kaabil. To say that Kaabil is a direct copy of Daredevil seems a bit extreme, and even Netflix has acknowledged that reality.
Above all else, this seems like little more than another baseless online rumor with little substance to back up its claims. Of course, if you've spent any time online over the course of the last few months, you already know that the idea of "fake news" has become a widespread phenomenon that has spread into innumerable news categories. Regardless of your political affiliation or overall beliefs, I think it's safe to say that this Kaabil/Daredevil rumors is just another example of such falsities.
We will bring you more information related to this utterly bizarre situation as new details become available. Make sure to check out Seasons 1 & 2 of Daredevil, which are currently available on Netflix!
Be sure to take a look at our comprehensive midseason premiere guide to get more information regarding all of the most highly anticipated spring television debuts.
Originally from Connecticut, Conner grew up in San Diego and graduated from Chapman University in 2014. He now lives in Los Angeles working in and around the entertainment industry and can mostly be found binging horror movies and chugging coffee.
Your Daily Blend of Entertainment News
Thank you for signing up to CinemaBlend. You will receive a verification email shortly.
There was a problem. Please refresh the page and try again.