Fargo Season 3 Review: FX's Quirky Crime Drama Doubles The Ewan McGregor, Doubles The Fun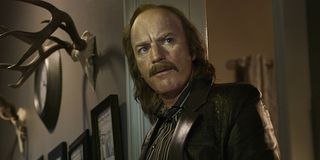 (Image credit: Photo courtesy of FX)
It's that time, yep. The time when the people on the TV there start talking in a way we're not used to hearing much. 16 months or so have passed since FX's Fargo ended its genre-bending second season, and Season 3 has finally arrived, led by a pair of polar opposite brothers played by Ewan McGregor in his first big TV role. As evidenced by the recent mind-warp of FX's Legion, creator Noah Hawley's storytelling talents are expanding, and this Fargo Season 3 is a dense and intense tale of murder and miscommunication, steeped in hilarious small town idealism.
Ewan McGregor positively shines as brothers Emmitt and Ray Stussy, if the word "shines" can be applied to two characters headed down roads as dark as Fargo's. His "McGregor-ness" was ever-present in the accents, but I often lost sight of the actor within the makeup and performances themselves. Seen above, Ray is the younger of the two, but the roundness of his balding head and his growing belly make him appear older. He's currently a parole officer who hasn't had much of a problem bringing parolees into his personal life, particularly Mary Elizabeth Winstead's Nikki Swango. There's a lot of good in Ray somewhere underneath the pent up aggression against his brother, whom Ray feels is responsible for the bad hand he was dealt, but it won't be easy for him to make that goodness visible.
Emmitt is the far more successful of the pair, having built up a modest real estate empire that earned him the nickname "The Parking Lot King of Minnesota," which affords him and wife Stella (Linda Kash) a good life. Set in 2010, Fargo Season 3 kicks off with the elder denying his younger sibling a financial loan, because even though Emmitt holds a certain amount of empathy for Ray and his constant troubles, Emmitt's decision-making is guided by his right hand man Sy Feltz, played by Michael Stahlberg, one of the most dependably fantastic actors in Hollywood. Sy's protective hold over Emmitt borders on buffoonish, in an enjoyable sense, but there's a legitimate loyalty there that will no doubt reach some dramatic heights as the [true] stories go on.
In one corner, we have Ray and Nikki, who embrace the almost charming goal of becoming professional bridge players. In need of some quick cash that couldn't be found with Emmitt, Ray tasks Scoot McNairy's uncomfortable stoner Maurice LeFay with a boneheaded ploy to get a quick payday, which opens up a deadly can of worms for potentially anyone the Stussy family comes into contact with. It isn't safe to think that Nikki is the lesser of two evils in this situation, either, and Mary Elizabeth Winstead nails whatever passive psychosis her character is feeding on.
In the other corner, Emmitt has just come out of his own financial troubles, but while money is no longer an issue, Emmitt and Sy's problems are really only just starting. Due to circumstances beyond his means, Emmitt takes on an unwanted business partner -- for lack of a better and more villainous description -- in the mysterious and sadistically cheery V.M. Varga, played by Harry Potter vet David Thewlis. By the time 2017 comes to a close, I bet people are still going to be talking about Thewlis' performance, as V.M. was unmistakably birthed in Fargo's universe and retains a deviousness that is charming but never without an air of foreboding.
V.M. is a man who seeks to exploit the humanity in others, and does not take well to the company of others. However, he often travels with two henchman. One is Yuri Gurka, a Ukranian whose ties with V.M. aren't immediately clear, and he's played by Croation actor and writer Goran Bogdan. The other is the earbuds-wearing Meemo, whose silence only breaks when he's breaking something. Meemo is played by Chinese-Canadian actor Andy Yu.
And it wouldn't be Fargo without the cops being involved, and this year, the good guys are being led by Eden Valley Police chief Gloria Burgle, played by The Leftovers standout Carrie Coon. A mother getting used to a post-divorce life, Gloria's normally unwavering resolve is tested when she crosses counties to investigate the bloody aftermath of a robbery gone wrong, and this one hits closer to home than her cases usually do. Though Gloria will probably get more chances at gee-golly humor as the season goes on, her arc is anchored more by dramatic undertones, and Coon quietly steals all the attention in every scene she's in, often with just a wistful stare or a resigned glare.
Other than dead bodies, the police force is getting enveloped into a larger department, with a newly arriving big boss in Shea Whigham's Sheriff Moe Dammik, a Philadelphia import whose personality is far rougher and gruffer than everyone around him. Another memorable officer is the talkative Winnie Lopez, played by Olivia Sandoval, and then there's the extremely hard-nosed IRS agent Larue Dollard, played by Hamish Linklater. Not even the non-speaking extras qualify as "weak links" here.
As it always goes with Noah Hawley's shows, Fargo Season 3 has a wide and well-formulated foundation that takes awhile to explain, even though only the vaguest of story elements are being discussed. Knowing little pays off where this series is concerned, and its anthology nature means no one is ever safe. This year's hairpin twists and turns can just as easily affect anyone and anything. But the people that will be affected most by this story are viewers, who can finally once again sit back and marvel at another thrilling season from one of TV's best dramas. With such an incredible cast -- seriously, the Emmys should just call itself the Fargos next year -- and a suspense-filled plot, you won't walk away from this one disappointed, I reckon.
Get ready for a Midwestern series of unfortunate events when Fargo Season 3 debuts on FX on Wednesday, April 19, at 10 p.m. ET. To see when everything else is hitting the small screen in the near future, head to our midseason premiere guide and our summer TV schedule.
Assistant Managing Editor
Nick is a Cajun Country native, and is often asked why he doesn't sound like that's the case. His love for his wife and daughters is almost equaled by his love of gasp-for-breath laughter and gasp-for-breath horror. A lifetime spent in the vicinity of a television screen led to his current dream job, as well as his knowledge of too many TV themes and ad jingles.
Your Daily Blend of Entertainment News
Thank you for signing up to CinemaBlend. You will receive a verification email shortly.
There was a problem. Please refresh the page and try again.